English IPA Recipe - Lion IPA
English IPA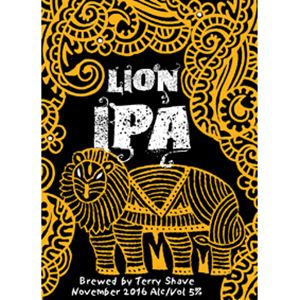 https://brewgr.com/Media/img/r/87/879fa19f-89ab-4510-8296-1aec8678f30b_d.jpg
https://brewgr.com/Media/img/r/87/879fa19f-89ab-4510-8296-1aec8678f30b_t.jpg
65%
-
Maris Otter Pale - UK
9%
-
Bohemian Pilsner - DE
2%
-
Torrified Wheat - US
9%
-
Corn Sugar (Dextrose) - US
Muntons Muntons Premium Gold
No mash steps in this recipe
Mash 4 hours. Grain in @ 55C for 1/2 hour
Then 1/2 hr @ 60C then up to 66C for 2.5 hrs
Then to 70C for half an hour
Temp up to 77C then sparge with water at same temp.
Sugar, and citric acid added just before boiling point
First hops in at boiling second batch in after 30 mins boil
Irish Moss added for last 10 mins. of boil third batch of hops in
Wort chiller inserted for 2 min in boil to sterilize
Chilled water passed through wort chiller for 25 mins. (22C)
Made up to 5 gals with cold water.
Yeast added at 20C SG 1.050
48 hrs later fermenting well SG 1.040
4 days later Racked at SG 1.030
Tasting Notes (
2

)
Notes:
Found a bottle and tasted this in July 2019 and was still really pleased with this beer. Just shows good beer will kep and mature!
Notes:
Really pleased how this turned out. A malty IPA with a background bitterness and a buscuity aftertaste. Cleared will and the bottle carbonation was spot on. I'll do this again for sure!
22.71

Gallons

Liters

Batch Size

26.00

Gallons

Liters

Boil Size

90

 min

Boil Time

1.053

OG

1.013

FG

41.1

 IBU (brewgr)

Bitterness

0.77

BG:GU

5.7

° SRM

Color

70%

Efficiency

5.2

% ABV

Alcohol

178

 per 12oz

Calories
Clone This Recipe
Similar Homebrew Recipes
{"RecipeId":32133,"RecipeTypeId":10,"OriginalRecipeId":31554,"UnitType":"m","IbuFormula":"b","CreatedBy":107281,"Name":"Lion IPA","Description":"First brewed 21st November 2016 - Bottled 14th December 2016","ImageUrlRoot":"/img/r/87/879fa19f-89ab-4510-8296-1aec8678f30b","StyleId":"12C","StyleName":"English IPA","BatchSize":22.7125,"BoilSize":26.0001,"BoilTime":90,"Efficiency":0.7,"DateCreated":"\/Date(1479721637080)\/","BrewSessionCount":0,"MostRecentBrewSession":null,"Og":1.0532836247040431,"Fg":1.0133209061760107,"Srm":5.6821999945123842,"Ibu":41.061190499914559,"BgGu":0.7706155639370168,"Abv":5.1551906901161635,"Calories":178,"AverageRating":5,"TastingNoteCount":6,"Fermentables":[{"Per":"65","Amt":"3.402","Ppg":"38","L":"3","Use":"Mash","Id":"160373","IngId":"15","Name":"Maris Otter Pale - UK","CustomName":"","Rank":"1"},{"Per":"9","Amt":"0.4536","Ppg":"35","L":"4","Use":"Mash","Id":"160374","IngId":"589","Name":"Vienna - UK","CustomName":"","Rank":"2"},{"Per":"9","Amt":"0.4536","Ppg":"38","L":"1","Use":"Mash","Id":"160487","IngId":"485","Name":"Bohemian Pilsner - DE","CustomName":"","Rank":"3"},{"Per":"4","Amt":"0.2268","Ppg":"32","L":"27","Use":"Mash","Id":"160488","IngId":"29","Name":"Amber - UK","CustomName":"","Rank":"4"},{"Per":"2","Amt":"0.1134","Ppg":"36","L":"2","Use":"Mash","Id":"160489","IngId":"586","Name":"Torrified Wheat - US","CustomName":"","Rank":"5"},{"Per":"2","Amt":"0.1134","Ppg":"32","L":"1","Use":"Mash","Id":"160490","IngId":"94","Name":"Flaked Rice - US","CustomName":"","Rank":"6"},{"Per":"9","Amt":"0.4536","Ppg":"46","L":"0","Use":"Late","Id":"160491","IngId":"87","Name":"Corn Sugar (Dextrose) - US","CustomName":"","Rank":"7"}],"Hops":[{"Amt":"21.2621","Type":"Leaf","Use":"Boil","Min":"90","Day":"0","AA":"5","Ibu":"11.9149231124828","Id":"167030","IngId":"14","Name":"Goldings","CustomName":"","Rank":"1"},{"Amt":"21.2621","Type":"Pellet","Use":"Boil","Min":"60","Day":"0","AA":"6","Ibu":"14.7026448777151","Id":"167102","IngId":"37","Name":"Bramling Cross ","CustomName":"","Rank":"2"},{"Amt":"28.3495","Type":"Leaf","Use":"Boil","Min":"15","Day":"0","AA":"5","Ibu":"7.36919515801869","Id":"167031","IngId":"14","Name":"Goldings","CustomName":"","Rank":"3"},{"Amt":"28.3495","Type":"Leaf","Use":"Boil","Min":"15","Day":"0","AA":"4.8","Ibu":"7.07442735169794","Id":"167032","IngId":"11","Name":"Fuggles","CustomName":"","Rank":"4"},{"Amt":"21.2621","Type":"Pellet","Use":"FlameOut","Min":"0","Day":"0","AA":"4.8","Ibu":"0","Id":"167103","IngId":"11","Name":"Fuggles","CustomName":"","Rank":"5"},{"Amt":"28.3495","Type":"Leaf","Use":"DryHop","Min":"0","Day":"5","AA":"4.8","Ibu":"0","Id":"167033","IngId":"11","Name":"Fuggles","CustomName":"","Rank":"6"}],"Yeasts":[{"Atten":"0.75","Id":"45559","IngId":"135","Name":"Muntons Muntons Premium Gold","CustomName":"","Rank":"1"}],"Others":[{"Amt":"1","Unit":"ml","Use":"Mash","Id":"30713","IngId":"4360","Name":"Burton water crystals","CustomName":"","Rank":"1"},{"Amt":"1","Unit":"ml","Use":"Boil","Id":"30714","IngId":"3610","Name":"Citric acid","CustomName":"","Rank":"2"},{"Amt":"2","Unit":"ml","Use":"Boil","Id":"30715","IngId":"14","Name":"Irish Moss","CustomName":"","Rank":"3"}],"MashSteps":[],"Steps":[{"Id":"50337","Rank":"1","Text":"Mash 4 hours. Grain in @ 55C for 1/2 hour"},{"Id":"50338","Rank":"2","Text":"Then 1/2 hr @ 60C then up to 66C for 2.5 hrs"},{"Id":"50373","Rank":"3","Text":"Then to 70C for half an hour"},{"Id":"50339","Rank":"4","Text":"Temp up to 77C then sparge with water at same temp."},{"Id":"50340","Rank":"5","Text":"Sugar, and citric acid added just before boiling point"},{"Id":"50341","Rank":"6","Text":"First hops in at boiling second batch in after 30 mins boil"},{"Id":"50342","Rank":"7","Text":"Irish Moss added for last 10 mins. of boil third batch of hops in"},{"Id":"50343","Rank":"8","Text":"Wort chiller inserted for 2 min in boil to sterilize"},{"Id":"50344","Rank":"9","Text":"Chilled water passed through wort chiller for 25 mins. (22C)"},{"Id":"50345","Rank":"10","Text":"Made up to 5 gals with cold water."},{"Id":"50346","Rank":"11","Text":"Yeast added at 20C SG 1.050"},{"Id":"50347","Rank":"12","Text":"48 hrs later fermenting well SG 1.040"},{"Id":"50348","Rank":"13","Text":"4 days later Racked at SG 1.030"},{"Id":"51101","Rank":"14","Text":"10 days later SG 1.011"}]}