American IPA Recipe - NEIPA to be Named Later
American IPA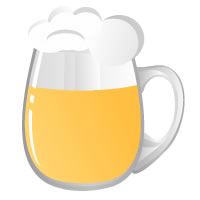 https://brewgr.com/Media/img/mug/3_d.jpg
https://brewgr.com/Media/img/mug/3_t.jpg
NEIPA to be Named Later
by PourHouseBrewing on

8/15/2020
Citra & HBC-586, no boil, no chill, Hazy IPA. After mash-out, transfer wort to sanitized fermenter on top of hops. Allow to cool to 100F and then pitch Voss Kveik. Add dry hops after 24 hrs of fermentation.
Voss Kveik Ale Yeast - Lallemand
Wyeast Yeast Nutrient Blend
Pitch yeast @ 100F. Insulate fermenter and allow to free fall to room temp over the next 7 days.
Biotransformation dry hop on day 2 for 3 days.
On day 4, remove hops and add spunding valve set to 15 psi.
Cold crash to 33F for 4 days, then transfer to serving keg and cold condition for 10 days.
Tasting Notes (
0

)
There aren't any tasting notes logged yet
NEIPA to be Named Later
American IPA
3.00

Gallons

Liters

Batch Size

3.00

Gallons

Liters

Boil Size

5

 min

Boil Time

1.057

OG

1.011

FG

66.5

 IBU (tinseth)

Bitterness

1.16

BG:GU

2.7

° SRM

Color

75%

Efficiency

6.0

% ABV

Alcohol

191

 per 12oz

Calories
Clone This Recipe
Similar Homebrew Recipes
{"RecipeId":87168,"RecipeTypeId":10,"OriginalRecipeId":null,"UnitType":"s","IbuFormula":"t","CreatedBy":108989,"Name":"NEIPA to be Named Later","Description":"Citra \u0026 HBC-586, no boil, no chill, Hazy IPA. After mash-out, transfer wort to sanitized fermenter on top of hops. Allow to cool to 100F and then pitch Voss Kveik. Add dry hops after 24 hrs of fermentation.","ImageUrlRoot":null,"StyleId":"21A","StyleName":"American IPA","BatchSize":3,"BoilSize":3,"BoilTime":5,"Efficiency":0.75,"DateCreated":"\/Date(1597519166673)\/","BrewSessionCount":0,"MostRecentBrewSession":null,"Og":1.05725,"Fg":1.0108775,"Srm":2.673561940948054,"Ibu":66.516400538993608,"BgGu":1.161858524698578,"Abv":5.9820525000000009,"Calories":191,"AverageRating":0,"TastingNoteCount":0,"Fermentables":[{"Per":"67","Amt":"4","Ppg":"38","L":"1","Use":"Mash","Id":"462905","IngId":"575","Name":"Pilsner - DE","CustomName":"","Rank":"2"},{"Per":"17","Amt":"1","Ppg":"37","L":"1","Use":"Mash","Id":"462907","IngId":"152","Name":"Flaked Oats - US","CustomName":"","Rank":"3"},{"Per":"17","Amt":"1","Ppg":"40","L":"2","Use":"Mash","Id":"462906","IngId":"10","Name":"White Wheat - US","CustomName":"","Rank":"4"}],"Hops":[{"Amt":"1","Type":"Pellet","Use":"Boil","Min":"10","Day":"0","AA":"11","Ibu":"23.6713169177913","Id":"489815","IngId":"10894","Name":"HBC-586","CustomName":"","Rank":"2"},{"Amt":"1","Type":"Pellet","Use":"Boil","Min":"10","Day":"0","AA":"12","Ibu":"25.8232548194087","Id":"489816","IngId":"7","Name":"Citra ","CustomName":"","Rank":"4"},{"Amt":"0.3","Type":"Pellet","Use":"Boil","Min":"10","Day":"0","AA":"15.7","Ibu":"10.1356275166179","Id":"490036","IngId":"9619","Name":"BRU-1","CustomName":"","Rank":"6"},{"Amt":"0.2","Type":"Pellet","Use":"Boil","Min":"10","Day":"0","AA":"16","Ibu":"6.88620128517566","Id":"490037","IngId":"279","Name":"El Dorado","CustomName":"","Rank":"8"},{"Amt":"1","Type":"Pellet","Use":"DryHop","Min":"0","Day":"3","AA":"11","Ibu":"0","Id":"489818","IngId":"10894","Name":"HBC-586","CustomName":"","Rank":"10"},{"Amt":"1","Type":"Pellet","Use":"DryHop","Min":"0","Day":"3","AA":"12","Ibu":"0","Id":"489819","IngId":"7","Name":"Citra ","CustomName":"","Rank":"12"},{"Amt":"0.3","Type":"Pellet","Use":"DryHop","Min":"0","Day":"3","AA":"15.7","Ibu":"0","Id":"490038","IngId":"9619","Name":"BRU-1","CustomName":"","Rank":"14"},{"Amt":"0.2","Type":"Pellet","Use":"DryHop","Min":"0","Day":"3","AA":"16","Ibu":"0","Id":"490039","IngId":"279","Name":"El Dorado","CustomName":"","Rank":"16"}],"Yeasts":[{"Atten":"0.81","Id":"128912","IngId":"6377","Name":"Voss Kveik Ale Yeast - Lallemand","CustomName":"","Rank":"1"}],"Others":[{"Amt":"1","Unit":"tsp","Use":"Boil","Id":"86055","IngId":"12442","Name":"Wyeast Yeast Nutrient Blend","CustomName":"","Rank":"1"}],"MashSteps":[{"Heat":"Direct Heat","Temp":"148","Time":"30","Id":"61285","IngId":"4078","Name":"Beta Rest","CustomName":"","Rank":"1"},{"Heat":"Direct Heat","Temp":"158","Time":"30","Id":"61286","IngId":"4077","Name":"Alpha Rest","CustomName":"","Rank":"2"},{"Heat":"Direct Heat","Temp":"170","Time":"10","Id":"61287","IngId":"7","Name":"Mash-Out","CustomName":"","Rank":"3"}],"Steps":[{"Id":"145184","Rank":"1","Text":"Pitch yeast @ 100F. Insulate fermenter and allow to free fall to room temp over the next 7 days."},{"Id":"145185","Rank":"2","Text":"Biotransformation dry hop on day 2 for 3 days."},{"Id":"145186","Rank":"3","Text":"On day 4, remove hops and add spunding valve set to 15 psi."},{"Id":"145187","Rank":"4","Text":"Cold crash to 33F for 4 days, then transfer to serving keg and cold condition for 10 days."}]}