American IPA Recipe - Brut
American IPA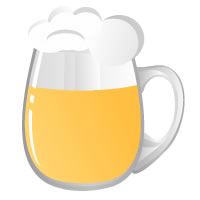 https://brewgr.com/Media/img/mug/3_d.jpg
https://brewgr.com/Media/img/mug/3_t.jpg
Brut
by BarklyBrew on

5/31/2020
attenuation of yeast adjusted based on assumption that enzyme will convert majority of starches
4%
-
Corn Sugar (Dextrose) - US
Mash thickness 3L/kg - 15.6L for mash. Mash: 64c for 90mins or check with iodine until saccharification complete
Batch sparge by placing grain bag in 10L water at 74C, stir thoroughly and rest for 10 min.
Drain bag and add as much of sparge water to pot as practical. Reserve remaining water. Add to boil with 15 minutes remaining if possible
5 mins left of boil: 200g dextrose
Add enzyme to fermenter when pitching yeast?
Whirlpool: 60g Hallertau Blanc (15mins)
Dryhop: 80g Hallertau Blanc (when almost at terminal gravity for 2 days)
Dryhop: 80g Nelson Sauvin (when almost at terminal gravity for 2 days)
Secondary: 320ml Wine Grape Juice
Ferment with US-05 at 18deg until a few points away from terminal, then rise to 20deg
Tasting Notes (
0

)
There aren't any tasting notes logged yet
19.00

Gallons

Liters

Batch Size

24.00

Gallons

Liters

Boil Size

60

min

Boil Time

1.060

OG

1.001

FG

11.3

IBU (tinseth)

Bitterness

0.19

BG:GU

2.6

° SRM

Color

70%

Efficiency

7.6

% ABV

Alcohol

194

per 12oz

Calories
Clone This Recipe
Similar Homebrew Recipes
{"RecipeId":84424,"RecipeTypeId":10,"OriginalRecipeId":null,"UnitType":"m","IbuFormula":"t","CreatedBy":120758,"Name":"Brut","Description":"attenuation of yeast adjusted based on assumption that enzyme will convert majority of starches","ImageUrlRoot":null,"StyleId":"21A","StyleName":"American IPA","BatchSize":19,"BoilSize":24,"BoilTime":60,"Efficiency":0.7,"DateCreated":"\/Date(1590920093107)\/","BrewSessionCount":0,"MostRecentBrewSession":null,"Og":1.0595065272466024,"Fg":1.000595065272466,"Srm":2.5640782206861346,"Ibu":11.31789207333359,"BgGu":0.19019580871239286,"Abv":7.599578594663603,"Calories":194,"AverageRating":0,"TastingNoteCount":0,"Fermentables":[{"Per":"88","Amt":"4.6","Ppg":"36","L":"1","Use":"Mash","Id":"458280","IngId":"149","Name":"Pilsner - US","CustomName":"","Rank":"2"},{"Per":"8","Amt":"0.4","Ppg":"37","L":"1","Use":"Mash","Id":"449030","IngId":"89","Name":"Flaked Corn - US","CustomName":"","Rank":"4"},{"Per":"4","Amt":"0.2","Ppg":"46","L":"0","Use":"Late","Id":"458282","IngId":"87","Name":"Corn Sugar (Dextrose) - US","CustomName":"","Rank":"6"}],"Hops":[{"Amt":"6.5","Type":"Pellet","Use":"Boil","Min":"60","Day":"0","AA":"14.2","Ibu":"11.3178920733336","Id":"484861","IngId":"63","Name":"Warrior ","CustomName":"","Rank":"2"},{"Amt":"60","Type":"Pellet","Use":"FlameOut","Min":"0","Day":"0","AA":"6.3","Ibu":"0","Id":"484862","IngId":"10772","Name":"Hallertau Blanc","CustomName":"","Rank":"4"},{"Amt":"80","Type":"Pellet","Use":"DryHop","Min":"0","Day":"2","AA":"6.3","Ibu":"0","Id":"484863","IngId":"10772","Name":"Hallertau Blanc","CustomName":"","Rank":"6"},{"Amt":"80","Type":"Pellet","Use":"DryHop","Min":"0","Day":"2","AA":"11.3","Ibu":"0","Id":"475353","IngId":"99","Name":"Nelson Sauvin","CustomName":"","Rank":"8"}],"Yeasts":[{"Atten":"0.99","Id":"124863","IngId":"253","Name":"Fermentis Safale US-05","CustomName":"","Rank":"1"}],"Others":[{"Amt":"2.5","Unit":"ml","Use":"Boil","Id":"83646","IngId":"29","Name":"Yeast Nutrient","CustomName":"","Rank":"1"},{"Amt":"1","Unit":"each","Use":"Boil","Id":"83647","IngId":"14","Name":"Irish Moss","CustomName":"","Rank":"2"},{"Amt":"320","Unit":"ml","Use":"Secondary","Id":"83648","IngId":"12831","Name":"Grape juice","CustomName":"","Rank":"3"},{"Amt":"1","Unit":"each","Use":"Primary","Id":"83651","IngId":"2","Name":"Amylase Enzyme","CustomName":"","Rank":"4"}],"MashSteps":[{"Heat":"Direct Heat","Temp":"64","Time":"90","Id":"60812","IngId":"9","Name":"Saccharification Rest","CustomName":"","Rank":"1"}],"Steps":[{"Id":"143817","Rank":"1","Text":"Mash thickness 3L/kg - 15.6L for mash. Mash: 64c for 90mins or check with iodine until saccharification complete"},{"Id":"143882","Rank":"2","Text":"Batch sparge by placing grain bag in 10L water at 74C, stir thoroughly and rest for 10 min."},{"Id":"143883","Rank":"3","Text":"Drain bag and add as much of sparge water to pot as practical. Reserve remaining water. Add to boil with 15 minutes remaining if possible"},{"Id":"143818","Rank":"4","Text":"5 mins left of boil: 200g dextrose"},{"Id":"143819","Rank":"5","Text":"Add enzyme to fermenter when pitching yeast?"},{"Id":"143820","Rank":"6","Text":"Whirlpool: 60g Hallertau Blanc (15mins)"},{"Id":"143821","Rank":"7","Text":"Dryhop: 80g Hallertau Blanc (when almost at terminal gravity for 2 days)"},{"Id":"143822","Rank":"8","Text":"Dryhop: 80g Nelson Sauvin (when almost at terminal gravity for 2 days)"},{"Id":"143823","Rank":"9","Text":"Secondary: 320ml Wine Grape Juice"},{"Id":"143824","Rank":"10","Text":"Ferment with US-05 at 18deg until a few points away from terminal, then rise to 20deg"}]}