American IPA Recipe - Juicy J NEIPA v2.0 - Winner
American IPA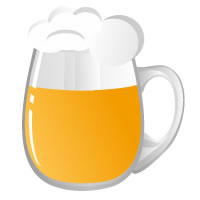 https://brewgr.com/Media/img/mug/5_d.jpg
https://brewgr.com/Media/img/mug/5_t.jpg
Juicy J NEIPA v2.0 - Winner
by brewmasterbryan on

4/27/2018

Adding Amarillo hops at 10, 5, biotransformation, and final dry hop. Adjusting flame out addition by upping Mosaic by 0.1 oz and lowering Galaxy by 0.1 oz. Finally, decreasing 2-Row addition by 1lb to add 1lb of White Wheat in place.


This recipe was cloned from Juicy J NEIPA.
3%
-
Caramel/Crystal 40 - US
Wyeast London Ale III 1318
No other stuff in this recipe
First dry hop charge add 48 hours into active fermentation
Tasting Notes (
0

)
There aren't any tasting notes logged yet
Juicy J NEIPA v2.0 - Winner
American IPA
1.50

Gallons

Liters

Batch Size

2.50

Gallons

Liters

Boil Size

60

min

Boil Time

1.065

OG

1.014

FG

64.9

IBU (tinseth)

Bitterness

1.00

BG:GU

5.1

° SRM

Color

70%

Efficiency

6.5

% ABV

Alcohol

219

per 12oz

Calories
Clone This Recipe
Similar Homebrew Recipes
{"RecipeId":53247,"RecipeTypeId":10,"OriginalRecipeId":52142,"UnitType":"s","IbuFormula":"t","CreatedBy":113790,"Name":"Juicy J NEIPA v2.0 - Winner","Description":"Adding Amarillo hops at 10, 5, biotransformation, and final dry hop. Adjusting flame out addition by upping Mosaic by 0.1 oz and lowering Galaxy by 0.1 oz. Finally, decreasing 2-Row addition by 1lb to add 1lb of White Wheat in place.","ImageUrlRoot":null,"StyleId":"21A","StyleName":"American IPA","BatchSize":1.5,"BoilSize":2.5,"BoilTime":60,"Efficiency":0.7,"DateCreated":"\/Date(1524837062583)\/","BrewSessionCount":0,"MostRecentBrewSession":null,"Og":1.0649133333333334,"Fg":1.0142809333333334,"Srm":5.0905230027330965,"Ibu":64.899534390194574,"BgGu":0.99978742513394048,"Abv":6.5315796000000006,"Calories":219,"AverageRating":0,"TastingNoteCount":0,"Fermentables":[{"Per":"54","Amt":"2","Ppg":"37","L":"1","Use":"Mash","Id":"278959","IngId":"3","Name":"2-Row - US","CustomName":"","Rank":"1"},{"Per":"27","Amt":"1","Ppg":"40","L":"2","Use":"Mash","Id":"278963","IngId":"10","Name":"White Wheat - US","CustomName":"","Rank":"2"},{"Per":"8","Amt":"0.3","Ppg":"35","L":"2","Use":"Mash","Id":"278960","IngId":"96","Name":"Flaked Wheat - US","CustomName":"","Rank":"3"},{"Per":"8","Amt":"0.3","Ppg":"37","L":"1","Use":"Mash","Id":"278961","IngId":"152","Name":"Flaked Oats - US","CustomName":"","Rank":"4"},{"Per":"3","Amt":"0.1","Ppg":"35","L":"40","Use":"Mash","Id":"278962","IngId":"38","Name":"Caramel/Crystal 40 - US","CustomName":"","Rank":"5"}],"Hops":[{"Amt":"0.15","Type":"Pellet","Use":"FirstWort","Min":"60","Day":"0","AA":"12.3","Ibu":"20.4433232943838","Id":"298856","IngId":"9","Name":"Columbus ","CustomName":"","Rank":"1"},{"Amt":"0.2","Type":"Pellet","Use":"Boil","Min":"10","Day":"0","AA":"10.8","Ibu":"8.67766343609624","Id":"298857","IngId":"167","Name":"Mosaic","CustomName":"","Rank":"2"},{"Amt":"0.2","Type":"Pellet","Use":"Boil","Min":"10","Day":"0","AA":"17.9","Ibu":"14.3824236579743","Id":"298858","IngId":"65","Name":"Galaxy","CustomName":"","Rank":"3"},{"Amt":"0.2","Type":"Pellet","Use":"Boil","Min":"10","Day":"0","AA":"7","Ibu":"5.62441148635867","Id":"298859","IngId":"2","Name":"Amarillo ","CustomName":"","Rank":"4"},{"Amt":"0.2","Type":"Pellet","Use":"Boil","Min":"5","Day":"0","AA":"10.8","Ibu":"4.77127437440113","Id":"298860","IngId":"167","Name":"Mosaic","CustomName":"","Rank":"5"},{"Amt":"0.2","Type":"Pellet","Use":"Boil","Min":"5","Day":"0","AA":"17.9","Ibu":"7.90794549090557","Id":"298861","IngId":"65","Name":"Galaxy","CustomName":"","Rank":"6"},{"Amt":"0.2","Type":"Pellet","Use":"Boil","Min":"5","Day":"0","AA":"7","Ibu":"3.09249265007481","Id":"298862","IngId":"2","Name":"Amarillo ","CustomName":"","Rank":"7"},{"Amt":"0.2","Type":"Pellet","Use":"FlameOut","Min":"0","Day":"0","AA":"10.8","Ibu":"0","Id":"298863","IngId":"167","Name":"Mosaic","CustomName":"","Rank":"8"},{"Amt":"0.2","Type":"Pellet","Use":"FlameOut","Min":"0","Day":"0","AA":"17.9","Ibu":"0","Id":"298864","IngId":"65","Name":"Galaxy","CustomName":"","Rank":"9"},{"Amt":"0.1","Type":"Pellet","Use":"FlameOut","Min":"0","Day":"0","AA":"13.3","Ibu":"0","Id":"311739","IngId":"7","Name":"Citra ","CustomName":"","Rank":"10"},{"Amt":"0.2","Type":"Pellet","Use":"DryHop","Min":"0","Day":"6","AA":"13.3","Ibu":"0","Id":"298865","IngId":"7","Name":"Citra ","CustomName":"","Rank":"11"},{"Amt":"0.2","Type":"Pellet","Use":"DryHop","Min":"0","Day":"6","AA":"17.9","Ibu":"0","Id":"298866","IngId":"65","Name":"Galaxy","CustomName":"","Rank":"12"},{"Amt":"0.2","Type":"Pellet","Use":"DryHop","Min":"0","Day":"6","AA":"10.8","Ibu":"0","Id":"298867","IngId":"167","Name":"Mosaic","CustomName":"","Rank":"13"},{"Amt":"0.2","Type":"Pellet","Use":"DryHop","Min":"0","Day":"6","AA":"7","Ibu":"0","Id":"298868","IngId":"2","Name":"Amarillo ","CustomName":"","Rank":"14"},{"Amt":"0.2","Type":"Pellet","Use":"DryHop","Min":"0","Day":"3","AA":"13.3","Ibu":"0","Id":"298869","IngId":"7","Name":"Citra ","CustomName":"","Rank":"15"},{"Amt":"0.2","Type":"Pellet","Use":"DryHop","Min":"0","Day":"3","AA":"17.9","Ibu":"0","Id":"298870","IngId":"65","Name":"Galaxy","CustomName":"","Rank":"16"},{"Amt":"0.2","Type":"Pellet","Use":"DryHop","Min":"0","Day":"3","AA":"10.8","Ibu":"0","Id":"298871","IngId":"167","Name":"Mosaic","CustomName":"","Rank":"17"},{"Amt":"0.2","Type":"Pellet","Use":"DryHop","Min":"0","Day":"3","AA":"7","Ibu":"0","Id":"298872","IngId":"2","Name":"Amarillo ","CustomName":"","Rank":"18"}],"Yeasts":[{"Atten":"0.78","Id":"77880","IngId":"233","Name":"Wyeast London Ale III 1318","CustomName":"","Rank":"1"}],"Others":[],"MashSteps":[{"Heat":"Infusion","Temp":"152","Time":"60","Id":"39287","IngId":"3425","Name":"BIAB - Single Step","CustomName":"","Rank":"1"}],"Steps":[{"Id":"89694","Rank":"1","Text":"First dry hop charge add 48 hours into active fermentation"}]}