Double IPA Recipe - OnTheWingsOfArmageddon clone IIPA
Double IPA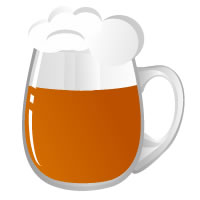 https://brewgr.com/Media/img/mug/13_d.jpg
https://brewgr.com/Media/img/mug/13_t.jpg
OnTheWingsOfArmageddon clone IIPA
by ZG77INJUN on

6/5/2016
All grain. Warrior for bittering. Features 2-row,crystal 60,carapils,sucrose,caramel wheat malt,Warrior,Falconers Flight, safale US-04.
5%
-
Caramel/Crystal 60 - US
10%
-
Table Sugar - Sucrose - US
6%
-
Caramel Wheat Malt - DE
2%
-
Carapils - Dextrine Malt - US
sparge 170F and collect 6.5g for boil
add sugar with 15mins left in boil and stir to incorporate
Tasting Notes (
1

)
Tasted on 9/10/2016 by ZG77INJUN
Notes:
A fantastic dense head that just does not leave. Great flavor showcase for Falconers. Alcohol is well hidden. Kicks hard though.2 pints and you are done.
OnTheWingsOfArmageddon clone IIPA
Double IPA
5.00

Gallons

Liters

Batch Size

6.50

Gallons

Liters

Boil Size

60

min

Boil Time

1.094

OG

1.024

FG

113.0

IBU (tinseth)

Bitterness

1.20

BG:GU

12.7

° SRM

Color

75%

Efficiency

9.1

% ABV

Alcohol

331

per 12oz

Calories
Clone This Recipe
Similar Homebrew Recipes
{"RecipeId":25422,"RecipeTypeId":10,"OriginalRecipeId":null,"UnitType":"s","IbuFormula":"t","CreatedBy":103863,"Name":"OnTheWingsOfArmageddon clone IIPA","Description":"All grain. Warrior for bittering. Features 2-row,crystal 60,carapils,sucrose,caramel wheat malt,Warrior,Falconers Flight, safale US-04.","ImageUrlRoot":null,"StyleId":"22A","StyleName":"Double IPA","BatchSize":5,"BoilSize":6.5,"BoilTime":60,"Efficiency":0.75,"DateCreated":"\/Date(1465138307473)\/","BrewSessionCount":0,"MostRecentBrewSession":null,"Og":1.09438382,"Fg":1.023595955,"Srm":12.65882918838623,"Ibu":113.04839921913056,"BgGu":1.1977518945422059,"Abv":9.1316345850000022,"Calories":331,"AverageRating":4,"TastingNoteCount":1,"Fermentables":[{"Per":"73","Amt":"11.6667","Ppg":"37","L":"1","Use":"Mash","Id":"121916","IngId":"3","Name":"2-Row - US","CustomName":"","Rank":"1"},{"Per":"5","Amt":"0.8333","Ppg":"36","L":"60","Use":"Mash","Id":"121917","IngId":"42","Name":"Caramel/Crystal 60 - US","CustomName":"","Rank":"2"},{"Per":"4","Amt":"0.625","Ppg":"33","L":"2","Use":"Mash","Id":"121918","IngId":"11","Name":"Carapils - DE","CustomName":"","Rank":"3"},{"Per":"10","Amt":"1.6667","Ppg":"46","L":"0","Use":"Late","Id":"121919","IngId":"153","Name":"Table Sugar - Sucrose - US","CustomName":"","Rank":"4"},{"Per":"6","Amt":"1.0417","Ppg":"35","L":"46","Use":"Mash","Id":"121920","IngId":"39","Name":"Caramel Wheat Malt - DE","CustomName":"","Rank":"5"},{"Per":"2","Amt":"0.25","Ppg":"33","L":"1","Use":"Mash","Id":"137813","IngId":"505","Name":"Carapils - Dextrine Malt - US","CustomName":"","Rank":"6"}],"Hops":[{"Amt":"1.25","Type":"Pellet","Use":"Boil","Min":"60","Day":"0","AA":"16","Ibu":"51.0129472202335","Id":"124878","IngId":"63","Name":"Warrior ","CustomName":"","Rank":"1"},{"Amt":"1.6667","Type":"Pellet","Use":"Boil","Min":"50","Day":"0","AA":"10.5","Ibu":"42.4469290505795","Id":"124879","IngId":"107","Name":"Falconer\u0027s Flight","CustomName":"","Rank":"2"},{"Amt":"0.8333","Type":"Pellet","Use":"Boil","Min":"40","Day":"0","AA":"10.5","Ibu":"19.5885229483176","Id":"124880","IngId":"107","Name":"Falconer\u0027s Flight","CustomName":"","Rank":"3"},{"Amt":"1.6667","Type":"Pellet","Use":"FlameOut","Min":"0","Day":"0","AA":"10.5","Ibu":"0","Id":"124881","IngId":"107","Name":"Falconer\u0027s Flight","CustomName":"","Rank":"4"},{"Amt":"1.6667","Type":"Pellet","Use":"DryHop","Min":"0","Day":"3","AA":"10.5","Ibu":"0","Id":"124882","IngId":"107","Name":"Falconer\u0027s Flight","CustomName":"","Rank":"5"}],"Yeasts":[{"Atten":"0.75","Id":"35235","IngId":"131","Name":"Fermentis Safale S-04","CustomName":"","Rank":"1"}],"Others":[{"Amt":"0.75","Unit":"tbsp","Use":"Mash","Id":"22829","IngId":"14","Name":"Irish Moss","CustomName":"","Rank":"1"}],"MashSteps":[{"Heat":"Decoction","Temp":"152","Time":"60","Id":"16416","IngId":"9","Name":"Saccharification Rest","CustomName":"","Rank":"1"}],"Steps":[{"Id":"38946","Rank":"1","Text":"sparge 170F and collect 6.5g for boil"},{"Id":"38947","Rank":"2","Text":"add sugar with 15mins left in boil and stir to incorporate"}]}