White IPA - TropicALE Recipe
Recipe Info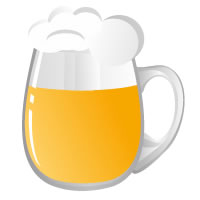 https://brewgr.com/Media/img/mug/4_d.jpg
https://brewgr.com/Media/img/mug/4_t.jpg
11.25 Gallon(s)
60 min
75%
Belgian base malt, Belgian light candi syrup, American hops
Fermentables
%
lb
fermentable
ppg

L

usage

39%

8.8184

Unmalted Wheat - BE

35
2°
Mash

39%

8.8184

Pale Ale - CA

37
3°
Mash

17%

3.9683

Belgian Clear Candi Syrup - BE

32
1°
Late

5%

1.1023

Rice Hulls - US

0
0°
Mash
22.7074 lb
Hops
oz
variety
type
usage
time
AA

IBU

0.5291

Citra

Pellet
First Wort
60 minutes
13.0
11.9
0.5291

El Dorado

Pellet
First Wort
60 minutes
14.9
13.7
0.1764

El Dorado

Pellet
Boil
60 minutes
14.9
4.6
0.1764

El Dorado

Pellet
Boil
45 minutes
14.9
4.2
1.7637

Equinox

Pellet
Flame Out
0 minutes
15.3
0.0
2.9983

Citra

Pellet
Flame Out
0 minutes
13.0
0.0
0.8818

Citra

Pellet
Dry Hop
4 days
14.5
0.0
0.8818

Equinox

Pellet
Dry Hop
4 days
15.3
0.0
7.9366 oz
IBUs calculated using the Tinseth formula
Yeast
name
attenuation

Wyeast American Wheat 1010

76%
Other Stuff
amount
unit
name
usage
2
each

Irish Moss

Boil
Mash Steps
No Mash Steps in this Recipe
Special Instructions
Mill grains, then add rice hulls.
Bring mash temp to 122F for 15min.
Heat up mash temp to 154F within 15min.
Hold mash temp to 154F for 60min
Recirculate wort 20min, then sparge.
Tasting Notes (
2

)
Notes:
Citra: Dual purpose, bright orange, grapefruit, lemon, wonderful tropical fruit flavors Equinox: Herbal to spicy green pepper, tropical papaya to citrus, high oil content El Dorado: Dual purpose, intense bittering quality, robustly fruity, almost candy like, evokes everything from cherry to peach and mango through lighter beer like wheats Light Candi: 260F Apricot colored with mild flavors reminiscent of peaches and white grape juice, some very mild warm flavors like soft rounded vanilla
Notes:
YEAST STRAIN: 1010 | American Wheat A strong fermenting, true top cropping yeast that produces a dry, slightly tart, crisp beer. Ideal for beers where low ester profile is desirable.
{"RecipeId":24299,"RecipeTypeId":10,"OriginalRecipeId":null,"UnitType":"s","IbuFormula":"t","CreatedBy":104415,"Name":"White IPA - TropicALE","Description":"Belgian base malt, Belgian light candi syrup, American hops","ImageUrlRoot":null,"StyleId":null,"StyleName":null,"BatchSize":10,"BoilSize":11.25,"BoilTime":60,"Efficiency":0.75,"DateCreated":"\/Date(1462932960260)\/","BrewSessionCount":0,"MostRecentBrewSession":null,"Og":1.06031792,"Fg":1.0144763008,"Srm":4.4016847783557438,"Ibu":34.301592368609292,"BgGu":0.56867996059229731,"Abv":5.9135688768,"Calories":203,"AverageRating":5,"TastingNoteCount":4,"Fermentables":[{"Per":"39","Amt":"8.8184","Ppg":"35","L":"2","Use":"Mash","Id":"116193","IngId":"115","Name":"Unmalted Wheat - BE","CustomName":"","Rank":"1"},{"Per":"39","Amt":"8.8184","Ppg":"37","L":"3","Use":"Mash","Id":"115743","IngId":"568","Name":"Pale Ale - CA","CustomName":"","Rank":"2"},{"Per":"17","Amt":"3.9683","Ppg":"32","L":"1","Use":"Late","Id":"115744","IngId":"479","Name":"Belgian Clear Candi Syrup - BE\r\n","CustomName":"","Rank":"3"},{"Per":"5","Amt":"1.1023","Ppg":"0","L":"0","Use":"Mash","Id":"116194","IngId":"116","Name":"Rice Hulls - US","CustomName":"","Rank":"4"}],"Hops":[{"Amt":"0.5291","Type":"Pellet","Use":"FirstWort","Min":"60","Day":"0","AA":"13","Ibu":"11.914170500222","Id":"118474","IngId":"7","Name":"Citra ","CustomName":"","Rank":"1"},{"Amt":"0.5291","Type":"Pellet","Use":"FirstWort","Min":"60","Day":"0","AA":"14.9","Ibu":"13.6554723425622","Id":"118475","IngId":"279","Name":"El Dorado","CustomName":"","Rank":"2"},{"Amt":"0.1764","Type":"Pellet","Use":"Boil","Min":"60","Day":"0","AA":"14.9","Ibu":"4.55268440980526","Id":"118035","IngId":"279","Name":"El Dorado","CustomName":"","Rank":"3"},{"Amt":"0.1764","Type":"Pellet","Use":"Boil","Min":"45","Day":"0","AA":"14.9","Ibu":"4.17926511601986","Id":"118036","IngId":"279","Name":"El Dorado","CustomName":"","Rank":"4"},{"Amt":"1.7637","Type":"Pellet","Use":"FlameOut","Min":"0","Day":"0","AA":"15.3","Ibu":"0","Id":"118038","IngId":"1470","Name":"Equinox","CustomName":"","Rank":"5"},{"Amt":"2.9983","Type":"Pellet","Use":"FlameOut","Min":"0","Day":"0","AA":"13","Ibu":"0","Id":"118040","IngId":"7","Name":"Citra ","CustomName":"","Rank":"6"},{"Amt":"0.8818","Type":"Pellet","Use":"DryHop","Min":"0","Day":"4","AA":"14.5","Ibu":"0","Id":"118039","IngId":"7","Name":"Citra ","CustomName":"","Rank":"7"},{"Amt":"0.8818","Type":"Pellet","Use":"DryHop","Min":"0","Day":"4","AA":"15.3","Ibu":"0","Id":"120710","IngId":"1470","Name":"Equinox","CustomName":"","Rank":"8"}],"Yeasts":[{"Atten":"0.76","Id":"33577","IngId":"196","Name":"Wyeast American Wheat 1010","CustomName":"","Rank":"1"}],"Others":[{"Amt":"2","Unit":"each","Use":"Boil","Id":"21678","IngId":"14","Name":"Irish Moss","CustomName":"","Rank":"1"}],"MashSteps":[],"Steps":[{"Id":"37051","Rank":"1","Text":"Mill grains, then add rice hulls."},{"Id":"37052","Rank":"2","Text":"Bring mash temp to 122F for 15min."},{"Id":"37053","Rank":"3","Text":"Heat up mash temp to 154F within 15min."},{"Id":"37054","Rank":"4","Text":"Hold mash temp to 154F for 60min"},{"Id":"37055","Rank":"5","Text":"Recirculate wort 20min, then sparge."}]}