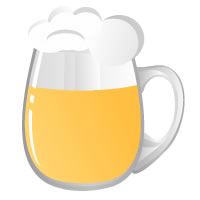 https://brewgr.com/Media/img/mug/3_d.jpg
https://brewgr.com/Media/img/mug/3_t.jpg
Breakky Juice
by BarklyBrew on

8/14/2020
24.6052 Liter(s)
60 min
75%
Super juicy Hazy IPA. Dry-hopped not once but three times with one of those times being at fermentation. We will also be adding citrus peel and juice to pack it with fresh, smashability. *Carahell subbed out for mix of caramalt and carapils. Amarillo amounts have been halved as they are cryo hops
1%
-
Carapils - Dextrine Malt - US
No other stuff in this recipe
No mash steps in this recipe
Mash 68 degrees for 60 minutes
boil an hour. No bittering hops added.
add peel of 2x blood orange 2x grapefruit at 10 minutes (could add juice or freeze for secondary)
Citra hop addition at 5 minutes
Add cryo amarillo once wort has cooled to 60C. Start a whirlpool and stand with lid on for 10 min
cool to fermentation temp
pitch yeast add first dry hop addition
ferment! remove first dry hop after 2-3 days.
dry hop 2 with peel of 2x blood orange 2x orange 2x grapefruit and jucie of all.
dry hop 3- taste test whether more peel/juice is needed.
Tasting Notes (
0

)
There aren't any tasting notes logged yet
20.00

Gallons

Liters

Batch Size

24.61

Gallons

Liters

Boil Size

60

min

Boil Time

1.066

OG

1.017

FG

7.9

IBU (tinseth)

Bitterness

0.12

BG:GU

3.3

° SRM

Color

75%

Efficiency

6.4

% ABV

Alcohol

225

per 12oz

Calories
Clone This Recipe
Similar Homebrew Recipes
{"RecipeId":87143,"RecipeTypeId":10,"OriginalRecipeId":null,"UnitType":"m","IbuFormula":"t","CreatedBy":120758,"Name":"Breakky Juice","Description":"Super juicy Hazy IPA. Dry-hopped not once but three times with one of those times being at fermentation. We will also be adding citrus peel and juice to pack it with fresh, smashability. *Carahell subbed out for mix of caramalt and carapils. Amarillo amounts have been halved as they are cryo hops","ImageUrlRoot":null,"StyleId":null,"StyleName":null,"BatchSize":20,"BoilSize":24.6052,"BoilTime":60,"Efficiency":0.75,"DateCreated":"\/Date(1597472728953)\/","BrewSessionCount":0,"MostRecentBrewSession":null,"Og":1.0662295064389866,"Fg":1.0165573766097467,"Srm":3.28893015756739,"Ibu":7.8700062038091412,"BgGu":0.11882930474590384,"Abv":6.4077047479719651,"Calories":225,"AverageRating":0,"TastingNoteCount":0,"Fermentables":[{"Per":"16","Amt":"0.9","Ppg":"37","L":"1","Use":"Mash","Id":"462789","IngId":"152","Name":"Flaked Oats - US","CustomName":"","Rank":"2"},{"Per":"12","Amt":"0.7","Ppg":"37","L":"2","Use":"Mash","Id":"462790","IngId":"590","Name":"Wheat Malt - DE","CustomName":"","Rank":"4"},{"Per":"70","Amt":"4","Ppg":"37","L":"1","Use":"Mash","Id":"462791","IngId":"565","Name":"Pale 2-Row - US","CustomName":"","Rank":"6"},{"Per":"1","Amt":"0.07","Ppg":"35","L":"17","Use":"Mash","Id":"463673","IngId":"500","Name":"Cara Malt - UK","CustomName":"","Rank":"8"},{"Per":"1","Amt":"0.06","Ppg":"33","L":"1","Use":"Mash","Id":"463674","IngId":"505","Name":"Carapils - Dextrine Malt - US","CustomName":"","Rank":"10"}],"Hops":[{"Amt":"30","Type":"Pellet","Use":"Boil","Min":"5","Day":"0","AA":"12","Ibu":"7.87000620380914","Id":"489713","IngId":"7","Name":"Citra ","CustomName":"","Rank":"2"},{"Amt":"15","Type":"Pellet","Use":"Boil","Min":"0","Day":"0","AA":"12.7","Ibu":"0","Id":"490987","IngId":"167","Name":"Mosaic","CustomName":"","Rank":"4"},{"Amt":"15","Type":"Pellet","Use":"FlameOut","Min":"0","Day":"0","AA":"18","Ibu":"0","Id":"490663","IngId":"2","Name":"Amarillo ","CustomName":"","Rank":"6"},{"Amt":"10","Type":"Pellet","Use":"DryHop","Min":"0","Day":"3","AA":"18","Ibu":"0","Id":"489715","IngId":"2","Name":"Amarillo ","CustomName":"","Rank":"8"},{"Amt":"10","Type":"Pellet","Use":"DryHop","Min":"0","Day":"0","AA":"12.7","Ibu":"0","Id":"490988","IngId":"167","Name":"Mosaic","CustomName":"","Rank":"10"},{"Amt":"30","Type":"Pellet","Use":"DryHop","Min":"0","Day":"3","AA":"12","Ibu":"0","Id":"489716","IngId":"7","Name":"Citra ","CustomName":"","Rank":"12"},{"Amt":"15","Type":"Pellet","Use":"DryHop","Min":"0","Day":"3","AA":"18","Ibu":"0","Id":"489718","IngId":"2","Name":"Amarillo ","CustomName":"","Rank":"14"},{"Amt":"30","Type":"Pellet","Use":"DryHop","Min":"0","Day":"3","AA":"12","Ibu":"0","Id":"489719","IngId":"7","Name":"Citra ","CustomName":"","Rank":"16"},{"Amt":"15","Type":"Pellet","Use":"DryHop","Min":"0","Day":"0","AA":"12.7","Ibu":"0","Id":"490989","IngId":"167","Name":"Mosaic","CustomName":"","Rank":"18"}],"Yeasts":[{"Atten":"0.75","Id":"129120","IngId":"6648","Name":"Lallemand New England","CustomName":"","Rank":"1"}],"Others":[],"MashSteps":[],"Steps":[{"Id":"145131","Rank":"1","Text":"Mash 68 degrees for 60 minutes"},{"Id":"145132","Rank":"2","Text":"sparge 78 degrees"},{"Id":"145133","Rank":"3","Text":"boil an hour. No bittering hops added."},{"Id":"145134","Rank":"4","Text":"add peel of 2x blood orange 2x grapefruit at 10 minutes (could add juice or freeze for secondary)"},{"Id":"145135","Rank":"5","Text":"Citra hop addition at 5 minutes"},{"Id":"145385","Rank":"6","Text":"Add cryo amarillo once wort has cooled to 60C. Start a whirlpool and stand with lid on for 10 min"},{"Id":"145136","Rank":"7","Text":"cool to fermentation temp"},{"Id":"145137","Rank":"8","Text":"pitch yeast add first dry hop addition"},{"Id":"145138","Rank":"9","Text":"ferment! remove first dry hop after 2-3 days."},{"Id":"145139","Rank":"10","Text":"dry hop 2 with peel of 2x blood orange 2x orange 2x grapefruit and jucie of all."},{"Id":"145140","Rank":"11","Text":"dry hop 3- taste test whether more peel/juice is needed."}]}