American IPA Recipe - Clone Of Azacca and Citra NEIPA
American IPA
Recipe Info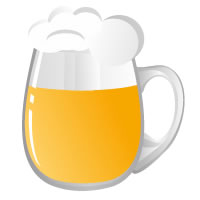 https://brewgr.com/Media/img/mug/4_d.jpg
https://brewgr.com/Media/img/mug/4_t.jpg
10.75 Gallon(s)
60 min
76%
All Grain American IPA homebrew recipe. This homebrew recipe uses the following ingredients: 2-Row - US, Golden Promise - UK, Flaked Oats - US, Flaked Wheat - US, Azacca Hops, Citra Hops, Mosaic Hops, Wyeast London Ale III 1318 Homebrew Yeast.
This recipe was cloned from
Azacca and Citra NEIPA
.
Fermentables
%
lb
fermentable
ppg

L

usage

43%

8

2-Row - US

37
1°
Mash

43%

8

Golden Promise - UK

37
3°
Mash

8%

1.5

Flaked Oats - US

37
1°
Mash

5%

1

Flaked Wheat - US

35
2°
Mash
18.5 lb
Hops
oz
variety
type
usage
time
AA

IBU

2.5

Azacca

Pellet
Boil
0 minutes
10.0
0.0
1

Citra

Pellet
Boil
0 minutes
12.0
0.0
1

Mosaic

Pellet
Boil
0 minutes
12.7
0.0
1

Mosaic

Pellet
Flame Out
0 minutes
12.7
0.0
2

Azacca

Pellet
Flame Out
0 minutes
10.0
0.0
2

Citra

Pellet
Flame Out
0 minutes
12.0
0.0
4.5

Azacca

Pellet
Dry Hop
0 days
10.0
0.0
3

Citra

Pellet
Dry Hop
0 days
12.0
0.0
2

Mosaic

Pellet
Dry Hop
0 days
12.7
0.0
19 oz
IBUs calculated using the Tinseth formula
Hop Summary
oz
variety
type
AA
9.0

Azacca

Pellet
10.0
6

Citra

Pellet
12.0
4

Mosaic

Pellet
12.7
19 oz
Yeast
name
attenuation

Wyeast London Ale III 1318

73%
Other Stuff
No Other Stuff in this Recipe
Mash Steps
No Mash Steps in this Recipe
Tasting Notes (
0

)
There aren't any tasting notes logged yet
{"RecipeId":54835,"RecipeTypeId":10,"OriginalRecipeId":50864,"UnitType":"s","IbuFormula":"t","CreatedBy":116192,"Name":"Clone Of Azacca and Citra NEIPA","Description":"","ImageUrlRoot":null,"StyleId":"21A","StyleName":"American IPA","BatchSize":9.25,"BoilSize":10.75,"BoilTime":60,"Efficiency":0.76,"DateCreated":"\/Date(1528769395260)\/","BrewSessionCount":0,"MostRecentBrewSession":null,"Og":1.0560756756756757,"Fg":1.0151404324324325,"Srm":3.7688255584828618,"Ibu":0,"BgGu":0,"Abv":5.2806463783783784,"Calories":189,"AverageRating":0,"TastingNoteCount":0,"Fermentables":[{"Per":"43","Amt":"8","Ppg":"37","L":"1","Use":"Mash","Id":"287876","IngId":"3","Name":"2-Row - US","CustomName":"","Rank":"1"},{"Per":"43","Amt":"8","Ppg":"37","L":"3","Use":"Mash","Id":"287877","IngId":"538","Name":"Golden Promise - UK","CustomName":"","Rank":"2"},{"Per":"8","Amt":"1.5","Ppg":"37","L":"1","Use":"Mash","Id":"287878","IngId":"152","Name":"Flaked Oats - US","CustomName":"","Rank":"3"},{"Per":"5","Amt":"1","Ppg":"35","L":"2","Use":"Mash","Id":"287879","IngId":"96","Name":"Flaked Wheat - US","CustomName":"","Rank":"4"}],"Hops":[{"Amt":"2.5","Type":"Pellet","Use":"Boil","Min":"0","Day":"0","AA":"10","Ibu":"0","Id":"309184","IngId":"3716","Name":"Azacca","CustomName":"","Rank":"1"},{"Amt":"1","Type":"Pellet","Use":"Boil","Min":"0","Day":"0","AA":"12","Ibu":"0","Id":"309185","IngId":"7","Name":"Citra ","CustomName":"","Rank":"2"},{"Amt":"1","Type":"Pellet","Use":"Boil","Min":"0","Day":"0","AA":"12.7","Ibu":"0","Id":"309190","IngId":"167","Name":"Mosaic","CustomName":"","Rank":"3"},{"Amt":"1","Type":"Pellet","Use":"FlameOut","Min":"0","Day":"0","AA":"12.7","Ibu":"0","Id":"309191","IngId":"167","Name":"Mosaic","CustomName":"","Rank":"4"},{"Amt":"2","Type":"Pellet","Use":"FlameOut","Min":"0","Day":"0","AA":"10","Ibu":"0","Id":"309186","IngId":"3716","Name":"Azacca","CustomName":"","Rank":"5"},{"Amt":"2","Type":"Pellet","Use":"FlameOut","Min":"0","Day":"0","AA":"12","Ibu":"0","Id":"309187","IngId":"7","Name":"Citra ","CustomName":"","Rank":"6"},{"Amt":"4.5","Type":"Pellet","Use":"DryHop","Min":"0","Day":"0","AA":"10","Ibu":"0","Id":"309188","IngId":"3716","Name":"Azacca","CustomName":"","Rank":"7"},{"Amt":"3","Type":"Pellet","Use":"DryHop","Min":"0","Day":"0","AA":"12","Ibu":"0","Id":"309189","IngId":"7","Name":"Citra ","CustomName":"","Rank":"8"},{"Amt":"2","Type":"Pellet","Use":"DryHop","Min":"0","Day":"0","AA":"12.7","Ibu":"0","Id":"309192","IngId":"167","Name":"Mosaic","CustomName":"","Rank":"9"}],"Yeasts":[{"Atten":"0.73","Id":"80494","IngId":"233","Name":"Wyeast London Ale III 1318","CustomName":"","Rank":"1"}],"Others":[],"MashSteps":[],"Steps":[{"Id":"92704","Rank":"1","Text":"treat water with calcium"}]}