American Pale Ale Recipe - Beyond Covid - American Pale Ale 2021
American Pale Ale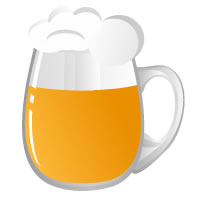 https://brewgr.com/Media/img/mug/6_d.jpg
https://brewgr.com/Media/img/mug/6_t.jpg
Beyond Covid - American Pale Ale 2021
by Bogenschutze on

6/9/2021
BJCP compliant American Pale Ale as we emerge from our Covid bomb shelters and face diapers.....FREEDOM! Two notes of interest. First, this brew session will be done on a Spike HERMS Brewing System Second, ignore the yeast listed (Wyeast 1056), as it will NOT be used. Rather, I will be using OYL071 Lutra Kveik - Omega Yeast, which is not listed in Brewgr's dropdown. Accordingly, I've adjusted the attenuation to this yeast's 79% average. Particulars of this yeast are as follows: Attenuation: 75-82% Flocculation: Medium-High Alcohol Tolerance: 11% ABV Optimum Fermentation Temp: 68-95°F......that's right.....95°F! Cell Count: 150 Billion Strain Type: Norwegian Kveik This entire batch is a multifaceted test. First time brewing this recipe I've cobbled together.....(should be "crushable") First time brewing on a HERMS.... First use of this extraordinary yeast, and finally.... First time fermenting well beyond the usual 60s temperatures....per this yeast's listed parameters, I intend to ferment this 5.5-6 gallon batch in a non-air conditioned garage where the temperatures will fluctuate between 68° (eves) and 85° degrees during the day. LET'S DO THIS!!!
26%
-
Maris Otter Pale - UK
4%
-
Munich - Light 10L - US
No other stuff in this recipe
No mash steps in this recipe
12pm - Mashed in and circulated at 153 degrees for one hour.
Cranked temp to 170 and held for ten minutes (MASHOUT).
Whirlpooled for 20 minutes.
4pm - Cooled only to 85 degrees, oxygenated for two minutes, pitched yeast and shook carboy…vigorously, of course.
Left in 85 degree garage. By 9pm, that sucker was ROLLING!!! Amazing.
Tasting Notes (
1

)
Notes:
From 1.053 to 1.010 = 5.5% ABV. Secondaried and taste-tested... Good mouth feel.....slightly sweet....present but not overwhelming hop scent and taste.....alcohol present, but not warm or overwhelming.....A very "crushable" beer. I can hardly wait to cold crash and carbonate; this beer is NOT going to last long. VERY pleased with yeast performance.
Beyond Covid - American Pale Ale 2021
American Pale Ale
6.00

Gallons

Liters

Batch Size

7.50

Gallons

Liters

Boil Size

60

min

Boil Time

1.053

OG

1.011

FG

41.8

IBU (tinseth)

Bitterness

0.79

BG:GU

6.1

° SRM

Color

75%

Efficiency

5.4

% ABV

Alcohol

176

per 12oz

Calories
Clone This Recipe
Similar Homebrew Recipes
{"RecipeId":96305,"RecipeTypeId":10,"OriginalRecipeId":null,"UnitType":"s","IbuFormula":"t","CreatedBy":115804,"Name":"Beyond Covid - American Pale Ale 2021","Description":"BJCP compliant American Pale Ale as we emerge from our Covid bomb shelters and face diapers.....FREEDOM!\n\nTwo notes of interest.\nFirst, this brew session will be done on a Spike HERMS Brewing System\n\nSecond, ignore the yeast listed (Wyeast 1056), as it will NOT be used. \nRather, I will be using OYL071 Lutra Kveik - Omega Yeast, which is not listed in Brewgr\u0027s dropdown.\nAccordingly, I\u0027ve adjusted the attenuation to this yeast\u0027s 79% average.\nParticulars of this yeast are as follows:\n\nAttenuation: 75-82%\nFlocculation: Medium-High\nAlcohol Tolerance: 11% ABV\nOptimum Fermentation Temp: 68-95°F......that\u0027s right.....95°F!\nCell Count: 150 Billion\nStrain Type: Norwegian Kveik\n\nThis entire batch is a multifaceted test.\nFirst time brewing this recipe I\u0027ve cobbled together.....(should be \"crushable\")\nFirst time brewing on a HERMS....\nFirst use of this extraordinary yeast, and finally....\nFirst time fermenting well beyond the usual 60s temperatures....per this yeast\u0027s listed parameters, I intend to ferment this 5.5-6 gallon batch in a non-air conditioned garage where the temperatures will fluctuate between 68° (eves) and 85° degrees during the day.\n\nLET\u0027S DO THIS!!!\n","ImageUrlRoot":null,"StyleId":"18B","StyleName":"American Pale Ale","BatchSize":6,"BoilSize":7.5,"BoilTime":60,"Efficiency":0.75,"DateCreated":"\/Date(1623289915237)\/","BrewSessionCount":0,"MostRecentBrewSession":null,"Og":1.0530625,"Fg":1.011143125,"Srm":6.0752591683138952,"Ibu":41.764792339106634,"BgGu":0.78708678142014832,"Abv":5.407599375,"Calories":176,"AverageRating":5,"TastingNoteCount":1,"Fermentables":[{"Per":"52","Amt":"6","Ppg":"37","L":"1","Use":"Mash","Id":"515262","IngId":"565","Name":"Pale 2-Row - US","CustomName":"","Rank":"2"},{"Per":"26","Amt":"3","Ppg":"38","L":"3","Use":"Mash","Id":"514895","IngId":"15","Name":"Maris Otter Pale - UK","CustomName":"","Rank":"4"},{"Per":"9","Amt":"1","Ppg":"34","L":"1","Use":"Mash","Id":"514896","IngId":"109","Name":"Carafoam - DE","CustomName":"","Rank":"6"},{"Per":"4","Amt":"0.5","Ppg":"35","L":"10","Use":"Mash","Id":"514897","IngId":"24","Name":"Munich - Light 10L - US","CustomName":"","Rank":"8"},{"Per":"9","Amt":"1","Ppg":"37","L":"25","Use":"Mash","Id":"515263","IngId":"542","Name":"Honey Malt - CA","CustomName":"","Rank":"10"}],"Hops":[{"Amt":"0.5","Type":"Pellet","Use":"Boil","Min":"60","Day":"0","AA":"14.2","Ibu":"21.8780370022975","Id":"538696","IngId":"24","Name":"Nugget ","CustomName":"","Rank":"2"},{"Amt":"1","Type":"Pellet","Use":"Boil","Min":"10","Day":"0","AA":"5","Ibu":"5.58616722944078","Id":"538698","IngId":"64","Name":"Willamette ","CustomName":"","Rank":"4"},{"Amt":"1","Type":"Pellet","Use":"Boil","Min":"10","Day":"0","AA":"12.8","Ibu":"14.3005881073684","Id":"538697","IngId":"7","Name":"Citra ","CustomName":"","Rank":"6"}],"Yeasts":[{"Atten":"0.79","Id":"143049","IngId":"193","Name":"Wyeast American Ale 1056","CustomName":"","Rank":"1"}],"Others":[],"MashSteps":[],"Steps":[{"Id":"160836","Rank":"1","Text":"12pm - Mashed in and circulated at 153 degrees for one hour."},{"Id":"160837","Rank":"2","Text":"Cranked temp to 170 and held for ten minutes (MASHOUT)."},{"Id":"160838","Rank":"3","Text":"Whirlpooled for 20 minutes."},{"Id":"160839","Rank":"4","Text":"4pm - Cooled only to 85 degrees, oxygenated for two minutes, pitched yeast and shook carboy…vigorously, of course."},{"Id":"160840","Rank":"5","Text":"Left in 85 degree garage. By 9pm, that sucker was ROLLING!!! Amazing."}]}