English Barleywine Recipe - Barley Wine 5.1 auch sweet and sour
English Barleywine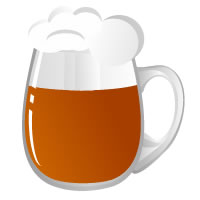 https://brewgr.com/Media/img/mug/15_d.jpg
https://brewgr.com/Media/img/mug/15_t.jpg
Barley Wine 5.1 auch sweet and sour
by freequency on

5/1/2020

All Grain English Barleywine homebrew recipe. This homebrew recipe uses the following ingredients: Maris Otter Pale - UK, Melanoidin Malt - US, Goldings Hops, First Gold Hops, Sovereign Hops, Wyeast London ESB Ale 1968 Homebrew Yeast, Epsom (2,0g)!!!, Gypsum (3,0g)!!!, Table Salt (0,5g)!!!, Calcium Chloride (1,0g)!!!, Irish Moss.


This recipe was cloned from Barley Wine 4.1.
93%
-
Maris Otter Pale - UK
7%
-
Melanoidin Malt - US
Wyeast London ESB Ale 1968
Calcium Chloride (1,0g)!!!
No mash steps in this recipe
WYeast nach Haltbarkeit Stunden bis Tage vorher bei Raumtemperatur aktivieren
Salze zum Mash Wasser zugeben
Malz nach und nach mit Wasser mischen, so dass keine Luftblasen!
Mash fuer 90 Minuten um 69C Mash Volumen: 6 (gal)/22,71Liter, Wasser um 7C ?ber 69C erhitzen (also 76C) und warm halten. F?llt dann von 69 -auf 66 mit einmal aufmachen und r?hren
Nach 45min r?hren, Nach 90min Jodprobe, wenn nicht fertig, dann 10min drauf!!
Spargin Wasser direkt aufsetzten und erhitzen!!! dauert ca 60min
Plattenkuehler und ersten Fermenter steril machen
recirculating bis clear!!!
Sparging mit 14 Liter Wasser bei 79C , auf 83C hochheizen
Sparging beenden wenn 26,5l (7 Gallons) erreicht sind (bzw. 31cm H?he im offenen unbeschrifteten Bottich!!!)
Wuerze kochen Und dann hopfen dazu
Irish Moss 15 min bevor den Ende des Kochens dazuf?gen
Keine Fenster offen haben!!!
Hopfens?ckchen raus und Aeration mit sterilem Mixer im gekuehlten Wasser erzeugen
Erst Mixer, dann Hefe rein und mit Kelle durchmengen
OG bei 20C messen, 1103? war 1082 weil efficiency 68% statt in echt 55% und 19,7 statt 20L
Kulturroehrchen 10min kochen und dann zuerst Hefe rein bis fast voll (13ml)
"Then we pitch yeast for at 17C (63F) before raising the temperature up to 20?C (68?F) for the main fermentation. Then it is lowered again."
in zweiten Fermenter umfuellen nach 7 Tagen
Heferest 8 Tage vor dem Abf?llen anzuechten mit 330ml (ca222g) Malzextrakt hell/light das 10min mit 510ml Wasser gekocht und dann im geschlossenem Topf im Kaltwasserbad runtergek?hlt wurde auf ca. 20?
Angezuechtete Hefe 3 Tage vor dem Abfuellen in den Fermenter geben
Vor den Abfuellen in sterilen Fermenter umfuellen
Im sterilen Fermenter 160g Malzextrakt hell/light zugeben, welches f?r 10min in 400ml Wasser gekocht wurde und dann im Klatwasserbad runtergek?hlt wurde auf ca. 20?
Abfuellen 7 Wochen nach Brautag fg 1031 erreicht!!!
Nach 2 Wochen und 2 Tagen 1030 erreicht und kein Blubbern mehr...?
Tasting Notes (
0

)
There aren't any tasting notes logged yet
Barley Wine 5.1 auch sweet and sour
English Barleywine
19.70

Gallons

Liters

Batch Size

26.50

Gallons

Liters

Boil Size

90

min

Boil Time

1.099

OG

1.031

FG

38.3

IBU (brewgr)

Bitterness

0.39

BG:GU

15.1

° SRM

Color

53%

Efficiency

8.8

% ABV

Alcohol

351

per 12oz

Calories
Clone This Recipe
Similar Homebrew Recipes
{"RecipeId":83201,"RecipeTypeId":10,"OriginalRecipeId":32966,"UnitType":"m","IbuFormula":"b","CreatedBy":100743,"Name":"Barley Wine 5.1 auch sweet and sour","Description":"","ImageUrlRoot":null,"StyleId":"17D","StyleName":"English Barleywine","BatchSize":19.7,"BoilSize":26.5,"BoilTime":90,"Efficiency":0.53,"DateCreated":"\/Date(1588356279517)\/","BrewSessionCount":0,"MostRecentBrewSession":null,"Og":1.0986894723642211,"Fg":1.0305937364329085,"Srm":15.106779823705383,"Ibu":38.3101929337216,"BgGu":0.38818925682705935,"Abv":8.7843499351393213,"Calories":351,"AverageRating":0,"TastingNoteCount":0,"Fermentables":[{"Per":"93","Amt":"11","Ppg":"37","L":"4","Use":"Mash","Id":"442828","IngId":"15","Name":"Maris Otter Pale - UK","CustomName":"","Rank":"2"},{"Per":"7","Amt":"0.88","Ppg":"37","L":"27","Use":"Mash","Id":"442847","IngId":"28","Name":"Melanoidin Malt - US","CustomName":"","Rank":"2"}],"Hops":[{"Amt":"59","Type":"Pellet","Use":"Boil","Min":"90","Day":"0","AA":"4","Ibu":"26.3597069717647","Id":"468332","IngId":"14","Name":"Goldings","CustomName":"","Rank":"1"},{"Amt":"13","Type":"Pellet","Use":"Boil","Min":"15","Day":"0","AA":"4","Ibu":"2.69414822269607","Id":"468333","IngId":"14","Name":"Goldings","CustomName":"","Rank":"2"},{"Amt":"8","Type":"Pellet","Use":"Boil","Min":"15","Day":"0","AA":"8.2","Ibu":"3.39877160401658","Id":"468334","IngId":"40","Name":"First Gold ","CustomName":"","Rank":"3"},{"Amt":"36","Type":"Pellet","Use":"Boil","Min":"3","Day":"0","AA":"8.2","Ibu":"3.83319335651543","Id":"468335","IngId":"40","Name":"First Gold ","CustomName":"","Rank":"4"},{"Amt":"17","Type":"Pellet","Use":"Boil","Min":"3","Day":"0","AA":"4.7","Ibu":"1.03750728043897","Id":"468336","IngId":"270","Name":"Sovereign","CustomName":"","Rank":"5"},{"Amt":"19","Type":"Pellet","Use":"Boil","Min":"3","Day":"0","AA":"4","Ibu":"0.98686549828988","Id":"468337","IngId":"14","Name":"Goldings","CustomName":"","Rank":"6"}],"Yeasts":[{"Atten":"0.69","Id":"123021","IngId":"234","Name":"Wyeast London ESB Ale 1968","CustomName":"","Rank":"1"}],"Others":[{"Amt":"2","Unit":"each","Use":"Mash","Id":"82517","IngId":"525","Name":"Epsom (2,0g)!!!","CustomName":"","Rank":"1"},{"Amt":"3","Unit":"each","Use":"Mash","Id":"82518","IngId":"526","Name":"Gypsum (3,0g)!!!","CustomName":"","Rank":"2"},{"Amt":"0.5","Unit":"each","Use":"Mash","Id":"82519","IngId":"527","Name":"Table Salt (0,5g)!!!","CustomName":"","Rank":"3"},{"Amt":"1","Unit":"each","Use":"Mash","Id":"82520","IngId":"528","Name":"Calcium Chloride (1,0g)!!!","CustomName":"","Rank":"4"},{"Amt":"10","Unit":"each","Use":"Boil","Id":"82521","IngId":"14","Name":"Irish Moss","CustomName":"","Rank":"5"}],"MashSteps":[],"Steps":[{"Id":"138596","Rank":"1","Text":"WYeast nach Haltbarkeit Stunden bis Tage vorher bei Raumtemperatur aktivieren"},{"Id":"138597","Rank":"2","Text":"Salze zum Mash Wasser zugeben"},{"Id":"138598","Rank":"3","Text":"Malz nach und nach mit Wasser mischen, so dass keine Luftblasen!"},{"Id":"138599","Rank":"4","Text":"Mash fuer 90 Minuten um 69C Mash Volumen: 6 (gal)/22,71Liter, Wasser um 7C ?ber 69C erhitzen (also 76C) und warm halten. F?llt dann von 69 -auf 66 mit einmal aufmachen und r?hren"},{"Id":"138600","Rank":"5","Text":"Nach 45min r?hren, Nach 90min Jodprobe, wenn nicht fertig, dann 10min drauf!!"},{"Id":"138601","Rank":"6","Text":"Spargin Wasser direkt aufsetzten und erhitzen!!! dauert ca 60min"},{"Id":"138602","Rank":"7","Text":"Plattenkuehler und ersten Fermenter steril machen"},{"Id":"138603","Rank":"8","Text":"recirculating bis clear!!!"},{"Id":"138604","Rank":"9","Text":"Sparging mit 14 Liter Wasser bei 79C , auf 83C hochheizen"},{"Id":"138605","Rank":"10","Text":"Sparging beenden wenn 26,5l (7 Gallons) erreicht sind (bzw. 31cm H?he im offenen unbeschrifteten Bottich!!!)"},{"Id":"138606","Rank":"11","Text":"Wuerze kochen Und dann hopfen dazu"},{"Id":"138607","Rank":"12","Text":"Irish Moss 15 min bevor den Ende des Kochens dazuf?gen"},{"Id":"138608","Rank":"13","Text":"Keine Fenster offen haben!!!"},{"Id":"138609","Rank":"14","Text":"Hopfens?ckchen raus und Aeration mit sterilem Mixer im gekuehlten Wasser erzeugen"},{"Id":"138610","Rank":"15","Text":"Erst Mixer, dann Hefe rein und mit Kelle durchmengen"},{"Id":"138611","Rank":"16","Text":"OG bei 20C messen, 1103? war 1082 weil efficiency 68% statt in echt 55% und 19,7 statt 20L"},{"Id":"138612","Rank":"17","Text":"Kulturroehrchen 10min kochen und dann zuerst Hefe rein bis fast voll (13ml)"},{"Id":"138613","Rank":"18","Text":"\"Then we pitch yeast for at 17C (63F) before raising the temperature up to 20?C (68?F) for the main fermentation. Then it is lowered again.\""},{"Id":"138614","Rank":"19","Text":"in zweiten Fermenter umfuellen nach 7 Tagen"},{"Id":"138615","Rank":"20","Text":"Heferest 8 Tage vor dem Abf?llen anzuechten mit 330ml (ca222g) Malzextrakt hell/light das 10min mit 510ml Wasser gekocht und dann im geschlossenem Topf im Kaltwasserbad runtergek?hlt wurde auf ca. 20?"},{"Id":"138616","Rank":"21","Text":"Angezuechtete Hefe 3 Tage vor dem Abfuellen in den Fermenter geben"},{"Id":"138617","Rank":"22","Text":"Vor den Abfuellen in sterilen Fermenter umfuellen"},{"Id":"138618","Rank":"23","Text":"Im sterilen Fermenter 160g Malzextrakt hell/light zugeben, welches f?r 10min in 400ml Wasser gekocht wurde und dann im Klatwasserbad runtergek?hlt wurde auf ca. 20?"},{"Id":"138619","Rank":"24","Text":"Abfuellen 7 Wochen nach Brautag fg 1031 erreicht!!!"},{"Id":"138620","Rank":"25","Text":"Nach 2 Wochen und 2 Tagen 1030 erreicht und kein Blubbern mehr...?"}]}