American Pale Ale Recipe - Capn Crunch Hazy Pale Ale
American Pale Ale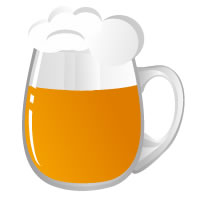 https://brewgr.com/Media/img/mug/8_d.jpg
https://brewgr.com/Media/img/mug/8_t.jpg
Capn Crunch Hazy Pale Ale
by LeeCase99 on

2/13/2020
Hazy Pale Ale made with Captain Crunch in the mash. The 2 boxes 0f "Capn crunch" is represented by Flaked Oats and Flaked Corn grains in recipe. What's amazing is I have seen many micro-breweries making this, but there are few formalized recipes...Voila!~ No whirlfloc or Irish moss will be used b/c it is a hazy pale ale.
7%
-
Floor-Malted Bohemian Wheat - DE
35%
-
Liquid Malt Extract - Light - US
11%
-
Liquid Malt Extract - Wheat - US
Wyeast American Wheat 1010
No mash steps in this recipe
Mash grains for 60 min. at 150 F. Add cereal (Capn Crunch) to mash at 30 minutes. Sparge for 20 min.
~60 min. boil. Use Palmer method - add 3/4 of extract at beginning of boil, remainder at 5 minutes.
Cool using chiller, pitch yeast.
Tasting Notes (
0

)
There aren't any tasting notes logged yet
Capn Crunch Hazy Pale Ale
American Pale Ale
6.00

Gallons

Liters

Batch Size

7.00

Gallons

Liters

Boil Size

60

min

Boil Time

1.057

OG

1.014

FG

43.2

IBU (tinseth)

Bitterness

0.76

BG:GU

8.3

° SRM

Color

75%

Efficiency

5.6

% ABV

Alcohol

190

per 12oz

Calories
Clone This Recipe
Similar Homebrew Recipes
{"RecipeId":79971,"RecipeTypeId":10,"OriginalRecipeId":null,"UnitType":"s","IbuFormula":"t","CreatedBy":106038,"Name":"Capn Crunch Hazy Pale Ale","Description":"Hazy Pale Ale made with Captain Crunch in the mash. The 2 boxes 0f \"Capn crunch\" is represented by Flaked Oats and Flaked Corn grains in recipe. What\u0027s amazing is I have seen many micro-breweries making this, but there are few formalized recipes...Voila!~ No whirlfloc or Irish moss will be used b/c it is a hazy pale ale. ","ImageUrlRoot":null,"StyleId":"18B","StyleName":"American Pale Ale","BatchSize":6,"BoilSize":7,"BoilTime":60,"Efficiency":0.75,"DateCreated":"\/Date(1581641992657)\/","BrewSessionCount":0,"MostRecentBrewSession":null,"Og":1.0567291666666667,"Fg":1.013615,"Srm":8.3338231674354226,"Ibu":43.186629190337975,"BgGu":0.76127734158509763,"Abv":5.5617275000000008,"Calories":190,"AverageRating":0,"TastingNoteCount":0,"Fermentables":[{"Per":"6","Amt":"0.6","Ppg":"37","L":"1","Use":"Mash","Id":"426102","IngId":"152","Name":"Flaked Oats - US","CustomName":"","Rank":"2"},{"Per":"7","Amt":"0.75","Ppg":"38","L":"1","Use":"Mash","Id":"427996","IngId":"536","Name":"Floor-Malted Bohemian Wheat - DE","CustomName":"","Rank":"4"},{"Per":"2","Amt":"0.25","Ppg":"37","L":"9","Use":"Mash","Id":"426104","IngId":"21","Name":"Smoked Malt - US","CustomName":"","Rank":"6"},{"Per":"9","Amt":"1","Ppg":"32","L":"1","Use":"Mash","Id":"426106","IngId":"94","Name":"Flaked Rice - US","CustomName":"","Rank":"8"},{"Per":"9","Amt":"1","Ppg":"37","L":"1","Use":"Mash","Id":"426107","IngId":"89","Name":"Flaked Corn - US","CustomName":"","Rank":"10"},{"Per":"2","Amt":"0.25","Ppg":"30","L":"180","Use":"Mash","Id":"427997","IngId":"161","Name":"Special B - BE","CustomName":"","Rank":"12"},{"Per":"2","Amt":"0.25","Ppg":"46","L":"1","Use":"Mash","Id":"426109","IngId":"488","Name":"Cane Sugar\r\n - US","CustomName":"","Rank":"14"},{"Per":"7","Amt":"0.75","Ppg":"37","L":"3","Use":"Mash","Id":"427998","IngId":"538","Name":"Golden Promise - UK","CustomName":"","Rank":"16"},{"Per":"9","Amt":"1","Ppg":"35","L":"1","Use":"Late","Id":"426110","IngId":"90","Name":"Honey - US","CustomName":"","Rank":"18"},{"Per":"35","Amt":"3.75","Ppg":"35","L":"4","Use":"Late","Id":"426108","IngId":"548","Name":"Liquid Malt Extract - Light - US","CustomName":"","Rank":"20"},{"Per":"11","Amt":"1.21","Ppg":"35","L":"3","Use":"Late","Id":"427999","IngId":"551","Name":"Liquid Malt Extract - Wheat - US","CustomName":"","Rank":"22"}],"Hops":[{"Amt":"0.3","Type":"Pellet","Use":"FirstWort","Min":"60","Day":"0","AA":"12.5","Ibu":"11.1807243778665","Id":"452591","IngId":"123","Name":"Green Bullet","CustomName":"","Rank":"2"},{"Amt":"0.7","Type":"Pellet","Use":"FirstWort","Min":"60","Day":"0","AA":"5.8","Ibu":"12.1049975931034","Id":"450794","IngId":"3","Name":"Cascade ","CustomName":"","Rank":"4"},{"Amt":"0.3","Type":"Pellet","Use":"FirstWort","Min":"60","Day":"0","AA":"15","Ibu":"13.4168692534398","Id":"452592","IngId":"135","Name":"Pacific Gem","CustomName":"","Rank":"6"},{"Amt":"0.5","Type":"Pellet","Use":"Boil","Min":"5","Day":"0","AA":"5.8","Ibu":"1.723702001747","Id":"452605","IngId":"3","Name":"Cascade ","CustomName":"","Rank":"8"},{"Amt":"0.5","Type":"Leaf","Use":"Boil","Min":"20","Day":"0","AA":"5.8","Ibu":"4.76033596418129","Id":"450795","IngId":"3","Name":"Cascade ","CustomName":"","Rank":"10"},{"Amt":"1","Type":"Pellet","Use":"FlameOut","Min":"0","Day":"0","AA":"5.8","Ibu":"0","Id":"450797","IngId":"12","Name":"Galena ","CustomName":"","Rank":"12"},{"Amt":"1","Type":"Pellet","Use":"DryHop","Min":"0","Day":"7","AA":"13","Ibu":"0","Id":"452593","IngId":"12","Name":"Galena ","CustomName":"","Rank":"14"}],"Yeasts":[{"Atten":"0.76","Id":"118868","IngId":"196","Name":"Wyeast American Wheat 1010","CustomName":"","Rank":"1"}],"Others":[{"Amt":"2","Unit":"tbsp","Use":"FlameOut","Id":"80303","IngId":"20","Name":"Orange or Lemon peel","CustomName":"","Rank":"1"}],"MashSteps":[],"Steps":[{"Id":"134480","Rank":"1","Text":"Mash grains for 60 min. at 150 F. Add cereal (Capn Crunch) to mash at 30 minutes. Sparge for 20 min."},{"Id":"134481","Rank":"2","Text":"~60 min. boil. Use Palmer method - add 3/4 of extract at beginning of boil, remainder at 5 minutes."},{"Id":"134482","Rank":"3","Text":"Cool using chiller, pitch yeast."}]}