Irish Extra Stout Recipe - 10- Paddy Womp - Irish Stout
Irish Extra Stout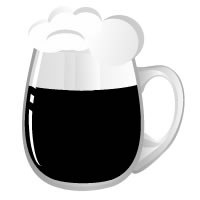 https://brewgr.com/Media/img/mug/41_d.jpg
https://brewgr.com/Media/img/mug/41_t.jpg
10- Paddy Womp - Irish Stout
by Brewer 120230 on

1/30/2020
Target Final Fermenter 21 L EST Preboil Gravity 1.047 EST Target OG 1.059-1.060 EST Target FG 1.013-1.017 Mash 24.7 Sparge 11.1 For Dry Stout Water Profile 1 gram gypsum (1/4 tsp) at mash
White Labs Irish Ale WLP004
No other stuff in this recipe
No mash steps in this recipe
Collect 24.7 Liters of strike water(For 5.5 gallon batch) and set temp to 154f/68c
toss in 1 crushed campden tablet.
Add 1 gram gypsum (1/4 tsp) at mash
MASH AT 140F / 60C for 90 mins
insert mash pipe once strike temp is reached. Add a base layer of rice hulls.
Mash in grains, Slowly add your grain, constantly stirring to maximize exposure.
Let grain bed settle for 10 minutes, then turn on recirculating pump.
MASH FOR 90 MINS - stirring every 15 minute intervals
Mash Out @ 75C for 10 mins
record pre Sparge volume and gravity
Sparge with 11.1 liters for a 5.5 gallon batch of 168F/76C till you get 26 Liters of Wort
record preboil volume and gravity
Bring to Boil and follow Hop schedule, Remember to add WHIRFLO TABLET & Yeast nutrient in f
Complete Boil. record post boil volume. Cool down to 90< on Brewzilla temp control.
Transfer to carboy with lots of splashing to oxygenate.
Let Wort Cool to 68 and pitch yeast. set inkbird to ferment temp to 69 F
Tasting Notes (
0

)
There aren't any tasting notes logged yet
10- Paddy Womp - Irish Stout
Irish Extra Stout
5.50

Gallons

Liters

Batch Size

7.00

Gallons

Liters

Boil Size

60

min

Boil Time

1.064

OG

1.014

FG

42.6

IBU (tinseth)

Bitterness

0.66

BG:GU

44.1

° SRM

Color

75%

Efficiency

6.5

% ABV

Alcohol

216

per 12oz

Calories
Clone This Recipe
Similar Homebrew Recipes
{"RecipeId":79482,"RecipeTypeId":10,"OriginalRecipeId":null,"UnitType":"s","IbuFormula":"t","CreatedBy":120230,"Name":"10- Paddy Womp - Irish Stout","Description":"Target Final Fermenter 21 L\n\nEST Preboil Gravity 1.047\nEST Target OG 1.059-1.060\nEST Target FG 1.013-1.017\n\nMash 24.7\nSparge 11.1\n\nFor Dry Stout Water Profile 1 gram gypsum (1/4 tsp) at mash\n","ImageUrlRoot":null,"StyleId":"15C","StyleName":"Irish Extra Stout","BatchSize":5.5,"BoilSize":7,"BoilTime":60,"Efficiency":0.75,"DateCreated":"\/Date(1580435244577)\/","BrewSessionCount":0,"MostRecentBrewSession":null,"Og":1.0642272727272728,"Fg":1.0137018181818183,"Srm":44.088455975145237,"Ibu":42.568611804607983,"BgGu":0.66278093397124871,"Abv":6.5177836363636361,"Calories":216,"AverageRating":0,"TastingNoteCount":0,"Fermentables":[{"Per":"79","Amt":"11","Ppg":"36","L":"4","Use":"Mash","Id":"528776","IngId":"17","Name":"Vienna - US","CustomName":"","Rank":"2"},{"Per":"4","Amt":"0.5","Ppg":"25","L":"300","Use":"Steep","Id":"423272","IngId":"51","Name":"Roasted Barley - US","CustomName":"","Rank":"4"},{"Per":"4","Amt":"0.5","Ppg":"36","L":"500","Use":"Mash","Id":"528777","IngId":"484","Name":"Blackprinz - US","CustomName":"","Rank":"6"},{"Per":"4","Amt":"0.5","Ppg":"29","L":"420","Use":"Steep","Id":"423273","IngId":"522","Name":"Dark Chocolate - US","CustomName":"","Rank":"8"},{"Per":"5","Amt":"0.75","Ppg":"32","L":"2","Use":"Mash","Id":"528778","IngId":"78","Name":"Flaked Barley - US","CustomName":"","Rank":"10"},{"Per":"4","Amt":"0.5","Ppg":"30","L":"180","Use":"Mash","Id":"528779","IngId":"161","Name":"Special B - BE","CustomName":"","Rank":"12"},{"Per":"2","Amt":"0.25","Ppg":"0","L":"0","Use":"Mash","Id":"528780","IngId":"116","Name":"Rice Hulls - US","CustomName":"","Rank":"14"}],"Hops":[{"Amt":"2","Type":"Pellet","Use":"Boil","Min":"60","Day":"0","AA":"7","Ibu":"42.568611804608","Id":"448065","IngId":"8","Name":"Cluster ","CustomName":"","Rank":"1"}],"Yeasts":[{"Atten":"0.8","Id":"117647","IngId":"131","Name":"Fermentis Safale S-04","CustomName":"","Rank":"1"},{"Atten":"0.76","Id":"146857","IngId":"178","Name":"White Labs Irish Ale WLP004","CustomName":"","Rank":"2"},{"Atten":"0.8","Id":"147605","IngId":"128","Name":"Danstar Nottingham","CustomName":"","Rank":"3"}],"Others":[],"MashSteps":[],"Steps":[{"Id":"165032","Rank":"1","Text":"Put on B.Z. Jacket"},{"Id":"165033","Rank":"2","Text":"Collect 24.7 Liters of strike water(For 5.5 gallon batch) and set temp to 154f/68c"},{"Id":"165035","Rank":"3","Text":"toss in 1 crushed campden tablet."},{"Id":"165034","Rank":"4","Text":"Add 1 gram gypsum (1/4 tsp) at mash"},{"Id":"165036","Rank":"5","Text":"MASH AT 140F / 60C for 90 mins"},{"Id":"165037","Rank":"6","Text":"insert mash pipe once strike temp is reached. Add a base layer of rice hulls."},{"Id":"165038","Rank":"7","Text":"Mash in grains, Slowly add your grain, constantly stirring to maximize exposure."},{"Id":"165039","Rank":"8","Text":"Let grain bed settle for 10 minutes, then turn on recirculating pump."},{"Id":"165040","Rank":"9","Text":"MASH FOR 90 MINS - stirring every 15 minute intervals"},{"Id":"165041","Rank":"10","Text":"Mash Out @ 75C for 10 mins"},{"Id":"165042","Rank":"11","Text":"record pre Sparge volume and gravity"},{"Id":"165043","Rank":"12","Text":"Sparge with 11.1 liters for a 5.5 gallon batch of 168F/76C till you get 26 Liters of Wort"},{"Id":"165044","Rank":"13","Text":"record preboil volume and gravity"},{"Id":"165045","Rank":"14","Text":"Bring to Boil and follow Hop schedule, Remember to add WHIRFLO TABLET \u0026 Yeast nutrient in f"},{"Id":"165046","Rank":"15","Text":"Complete Boil. record post boil volume. Cool down to 90\u003c on Brewzilla temp control."},{"Id":"165047","Rank":"16","Text":"record Original gravity."},{"Id":"165048","Rank":"17","Text":"Transfer to carboy with lots of splashing to oxygenate."},{"Id":"165049","Rank":"18","Text":"Let Wort Cool to 68 and pitch yeast. set inkbird to ferment temp to 69 F"}]}