American IPA Recipe - NEIPA 3.0
American IPA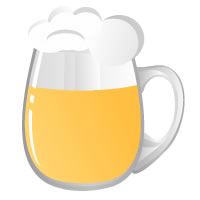 https://brewgr.com/Media/img/mug/3_d.jpg
https://brewgr.com/Media/img/mug/3_t.jpg
NEIPA 3.0
by GarryMc on

2/19/2019
6.75 Gallon(s)
60 min
75%
Simcoe/Citra/09326 hopped NEIPA
13g Calcium Chloride and 6g Mag. Sulfate added to 6 gallons of mash water, and also 6 gallons sparge water.
Mashed using 5 gallons of treated water
Yeast pitched at 65 degrees. Ferment no higher than 70 degrees.
5 day dry hop is actually high krousen hop addition added at 2 days into fermentation.
Tasting Notes (
0

)
There aren't any tasting notes logged yet
5.75

Gallons

Liters

Batch Size

6.75

Gallons

Liters

Boil Size

60

min

Boil Time

1.068

OG

1.013

FG

34.4

IBU (tinseth)

Bitterness

0.50

BG:GU

3.0

° SRM

Color

75%

Efficiency

7.1

% ABV

Alcohol

230

per 12oz

Calories
Clone This Recipe
Similar Homebrew Recipes
{"RecipeId":65389,"RecipeTypeId":10,"OriginalRecipeId":null,"UnitType":"s","IbuFormula":"t","CreatedBy":114601,"Name":"NEIPA 3.0","Description":"Simcoe/Citra/09326 hopped NEIPA","ImageUrlRoot":null,"StyleId":"21A","StyleName":"American IPA","BatchSize":5.75,"BoilSize":6.75,"BoilTime":60,"Efficiency":0.75,"DateCreated":"\/Date(1550603131980)\/","BrewSessionCount":0,"MostRecentBrewSession":null,"Og":1.0681521739130435,"Fg":1.0129489130434783,"Srm":3.0189661504363783,"Ibu":34.3878055462732,"BgGu":0.50457386128502912,"Abv":7.1212206521739141,"Calories":230,"AverageRating":0,"TastingNoteCount":0,"Fermentables":[{"Per":"68","Amt":"9.5","Ppg":"37","L":"1","Use":"Mash","Id":"347395","IngId":"3","Name":"2-Row - US","CustomName":"","Rank":"1"},{"Per":"14","Amt":"2","Ppg":"40","L":"2","Use":"Mash","Id":"347396","IngId":"10","Name":"White Wheat - US","CustomName":"","Rank":"2"},{"Per":"14","Amt":"2","Ppg":"37","L":"1","Use":"Mash","Id":"347397","IngId":"152","Name":"Flaked Oats - US","CustomName":"","Rank":"3"},{"Per":"4","Amt":"0.5","Ppg":"34","L":"1","Use":"Mash","Id":"347398","IngId":"109","Name":"Carafoam - DE","CustomName":"","Rank":"4"}],"Hops":[{"Amt":"0.5","Type":"Pellet","Use":"Boil","Min":"15","Day":"0","AA":"12.9","Ibu":"8.9857854194791","Id":"371292","IngId":"29","Name":"Simcoe ","CustomName":"","Rank":"1"},{"Amt":"0.5","Type":"Pellet","Use":"Boil","Min":"15","Day":"0","AA":"12","Ibu":"8.35887015765498","Id":"371389","IngId":"7","Name":"Citra ","CustomName":"","Rank":"2"},{"Amt":"0.5","Type":"Pellet","Use":"Boil","Min":"5","Day":"0","AA":"12.9","Ibu":"3.6101253629211","Id":"371390","IngId":"29","Name":"Simcoe ","CustomName":"","Rank":"3"},{"Amt":"1","Type":"Pellet","Use":"Boil","Min":"5","Day":"0","AA":"12","Ibu":"6.71651230310901","Id":"371293","IngId":"7","Name":"Citra ","CustomName":"","Rank":"4"},{"Amt":"2","Type":"Pellet","Use":"Boil","Min":"5","Day":"0","AA":"6","Ibu":"6.71651230310901","Id":"371294","IngId":"7647","Name":"09326","CustomName":"","Rank":"5"},{"Amt":"1","Type":"Pellet","Use":"Boil","Min":"0","Day":"0","AA":"12","Ibu":"0","Id":"371295","IngId":"7","Name":"Citra ","CustomName":"","Rank":"6"},{"Amt":"1","Type":"Pellet","Use":"Boil","Min":"0","Day":"0","AA":"6","Ibu":"0","Id":"371296","IngId":"7648","Name":"09326","CustomName":"","Rank":"7"},{"Amt":"1","Type":"Pellet","Use":"FlameOut","Min":"0","Day":"0","AA":"12.9","Ibu":"0","Id":"371297","IngId":"29","Name":"Simcoe ","CustomName":"","Rank":"8"},{"Amt":"2","Type":"Pellet","Use":"FlameOut","Min":"0","Day":"0","AA":"12","Ibu":"0","Id":"371298","IngId":"7","Name":"Citra ","CustomName":"","Rank":"9"},{"Amt":"2","Type":"Pellet","Use":"FlameOut","Min":"0","Day":"0","AA":"6","Ibu":"0","Id":"371299","IngId":"7649","Name":"09326","CustomName":"","Rank":"10"},{"Amt":"1","Type":"Pellet","Use":"DryHop","Min":"0","Day":"5","AA":"6","Ibu":"0","Id":"371358","IngId":"7647","Name":"09326","CustomName":"","Rank":"11"},{"Amt":"1","Type":"Pellet","Use":"DryHop","Min":"0","Day":"5","AA":"12","Ibu":"0","Id":"371359","IngId":"7","Name":"Citra ","CustomName":"","Rank":"12"},{"Amt":"2","Type":"Pellet","Use":"DryHop","Min":"0","Day":"3","AA":"6","Ibu":"0","Id":"371360","IngId":"7647","Name":"09326","CustomName":"","Rank":"13"},{"Amt":"2","Type":"Pellet","Use":"DryHop","Min":"0","Day":"3","AA":"12","Ibu":"0","Id":"371361","IngId":"7","Name":"Citra ","CustomName":"","Rank":"14"},{"Amt":"1","Type":"Pellet","Use":"DryHop","Min":"0","Day":"0","AA":"6","Ibu":"0","Id":"371362","IngId":"7647","Name":"09326","CustomName":"","Rank":"15"},{"Amt":"3","Type":"Pellet","Use":"DryHop","Min":"0","Day":"0","AA":"12","Ibu":"0","Id":"371363","IngId":"7","Name":"Citra ","CustomName":"","Rank":"16"}],"Yeasts":[{"Atten":"0.81","Id":"96972","IngId":"253","Name":"Fermentis Safale US-05","CustomName":"","Rank":"1"}],"Others":[{"Amt":"1","Unit":"tsp","Use":"Boil","Id":"66858","IngId":"29","Name":"Yeast Nutrient","CustomName":"","Rank":"1"},{"Amt":"1","Unit":"tbsp","Use":"Mash","Id":"66859","IngId":"9435","Name":"Calcium Chloride","CustomName":"","Rank":"2"},{"Amt":"0.5","Unit":"tbsp","Use":"Mash","Id":"66860","IngId":"9433","Name":"Magnesium Sufide","CustomName":"","Rank":"3"}],"MashSteps":[{"Heat":"Decoction","Temp":"150","Time":"60","Id":"48147","IngId":"3617","Name":"Mashed 60min","CustomName":"","Rank":"1"},{"Heat":"Decoction","Temp":"170","Time":"30","Id":"48148","IngId":"7","Name":"Mash-Out","CustomName":"","Rank":"2"}],"Steps":[{"Id":"111299","Rank":"1","Text":"13g Calcium Chloride and 6g Mag. Sulfate added to 6 gallons of mash water, and also 6 gallons sparge water."},{"Id":"111300","Rank":"2","Text":"Mashed using 5 gallons of treated water"},{"Id":"111307","Rank":"3","Text":"Yeast pitched at 65 degrees. Ferment no higher than 70 degrees."},{"Id":"111308","Rank":"4","Text":"5 day dry hop is actually high krousen hop addition added at 2 days into fermentation."}]}