Lambic Recipe - Apricot sour
Lambic
Recipe Info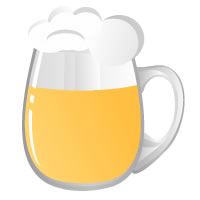 https://brewgr.com/Media/img/mug/3_d.jpg
https://brewgr.com/Media/img/mug/3_t.jpg
All Grain Lambic homebrew recipe. This homebrew recipe uses the following ingredients: Pilsner - US, 2-Row - US, Flaked Wheat - US, Cascade Hops, Fermentis Safale US-05 Homebrew Yeast, wyeast 5335 Homebrew Yeast, raspberries.
This recipe was cloned from
Raspberry sour Ale - Lacto sour
.
Fermentables
%
lb
fermentable
ppg

L

usage

75%

9

Pilsner - US

34
1°
Mash

17%

2

2-Row - US

37
1°
Mash

8%

1

Flaked Wheat - US

35
2°
Mash
12 lb
Hops
oz
variety
type
usage
time
AA

IBU

1

Cascade

Pellet
Boil
60 minutes
5.8
18.1
1 oz
IBUs calculated using the Tinseth formula
Hop Summary
oz
variety
type
AA
1

Cascade

Pellet
5.8
1 oz
Yeast
name
attenuation

Fermentis Safale US-05

81%

wyeast 5335

70%
Other Stuff
amount
unit
name
usage
4
lb

raspberries

Secondary
Mash Steps
No Mash Steps in this Recipe
Special Instructions
Mash at 145f for 1 hour, after collect wort and boil for 10 min do not add hops
Cool to 80 F, adjust ph down to 4-4.5 and pitch wyeast 5335
Place a layer of saran wrap directly onto wort or blanket with Co2.
Let Lacto sour for 3 days between 65 and 100 f. This strain works well at low temps.
After souring is complete collect wort and boil for 60 min adding hops at listed times
Add 1 oz of cascade at 30 min into boil (these hops were 1 year old)
Ferment at 68F with US 05 and rack to secondary after high krausen
Add Apricot puree to secondary, after desired flavour is reached remove raspberries
You can keg or bottle. Bottling is preferred as to let it age a bit
Carbonate to 3 volumes co2
Tasting Notes (
1

)
Notes:
I bottled this beer only 10 days ago and tried it. It has little Apricot aroma or flavour. I blame the puree I used. I will let this beer condition for another month and see if it gets any better. I would also raise the mash temp up to 150 to help with a better mouth feel.
{"RecipeId":63074,"RecipeTypeId":10,"OriginalRecipeId":60574,"UnitType":"s","IbuFormula":"t","CreatedBy":112134,"Name":"Apricot sour","Description":"","ImageUrlRoot":null,"StyleId":"23D","StyleName":"Lambic","BatchSize":6,"BoilSize":6,"BoilTime":60,"Efficiency":0.75,"DateCreated":"\/Date(1546705849370)\/","BrewSessionCount":0,"MostRecentBrewSession":null,"Og":1.051875,"Fg":1.012709375,"Srm":2.5402871932273703,"Ibu":18.063958079287861,"BgGu":0.34822087863687512,"Abv":5.052365625,"Calories":173,"AverageRating":2,"TastingNoteCount":1,"Fermentables":[{"Per":"75","Amt":"9","Ppg":"34","L":"1","Use":"Mash","Id":"334455","IngId":"149","Name":"Pilsner - US","CustomName":"","Rank":"1"},{"Per":"17","Amt":"2","Ppg":"37","L":"1","Use":"Mash","Id":"334456","IngId":"3","Name":"2-Row - US","CustomName":"","Rank":"2"},{"Per":"8","Amt":"1","Ppg":"35","L":"2","Use":"Mash","Id":"334457","IngId":"96","Name":"Flaked Wheat - US","CustomName":"","Rank":"3"}],"Hops":[{"Amt":"1","Type":"Pellet","Use":"Boil","Min":"60","Day":"0","AA":"5.8","Ibu":"18.0639580792879","Id":"357044","IngId":"3","Name":"Cascade ","CustomName":"","Rank":"1"}],"Yeasts":[{"Atten":"0.81","Id":"93059","IngId":"253","Name":"Fermentis Safale US-05","CustomName":"","Rank":"1"},{"Atten":"0.7","Id":"93060","IngId":"3803","Name":"wyeast 5335","CustomName":"","Rank":"2"}],"Others":[{"Amt":"4","Unit":"lb","Use":"Secondary","Id":"64611","IngId":"5755","Name":"raspberries","CustomName":"","Rank":"1"}],"MashSteps":[],"Steps":[{"Id":"107613","Rank":"1","Text":"Mash at 145f for 1 hour, after collect wort and boil for 10 min do not add hops"},{"Id":"107614","Rank":"2","Text":"Cool to 80 F, adjust ph down to 4-4.5 and pitch wyeast 5335"},{"Id":"107615","Rank":"3","Text":"Place a layer of saran wrap directly onto wort or blanket with Co2."},{"Id":"107616","Rank":"4","Text":"Let Lacto sour for 3 days between 65 and 100 f. This strain works well at low temps."},{"Id":"107617","Rank":"5","Text":"After souring is complete collect wort and boil for 60 min adding hops at listed times"},{"Id":"107618","Rank":"6","Text":"Add 1 oz of cascade at 30 min into boil (these hops were 1 year old)"},{"Id":"107619","Rank":"7","Text":"Ferment at 68F with US 05 and rack to secondary after high krausen"},{"Id":"107620","Rank":"8","Text":"Add Apricot puree to secondary, after desired flavour is reached remove raspberries"},{"Id":"107621","Rank":"9","Text":"You can keg or bottle. Bottling is preferred as to let it age a bit"},{"Id":"107622","Rank":"10","Text":"Carbonate to 3 volumes co2"}]}