Weissbier Recipe - Heidiweizen the original version
Weissbier
Recipe Info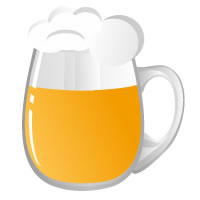 https://brewgr.com/Media/img/mug/5_d.jpg
https://brewgr.com/Media/img/mug/5_t.jpg
Heidiweizen the original version
by Brewdog333 on

4/2/2017
Honey infused german style hefeweizen....for my honey
Fermentables
%
lb
fermentable
ppg

L

usage

52%

5

White Wheat - US

40
2°
Mash

41%

4

Pilsner - US

34
1°
Mash

5%

0.5

Honey Malt - CA

37
25°
Mash

2%

0.1875

Biscuit Malt - BE

36
23°
Mash
9.6875 lb
Hops
oz
variety
type
usage
time
AA

IBU

1

Hersbrucker

Pellet
Boil
60 minutes
3.3
12.1
1 oz
IBUs calculated using the Tinseth formula
Yeast
name
attenuation

Fermentis Safbrew WB-06

86%
Other Stuff
amount
unit
name
usage
12
oz

Orange blossom honey

Flame Out
Mash Steps
type
heat
temp °F
time
Saccharification Rest
Infusion
150
60 minutes
Batch sparge
Infusion
170
5 minutes
Special Instructions
12oz Orange blossom honey at flameout...stir into wort
Start wort chiller immediately after honey infuse
Crack open a beer and pour a nice glass for yourself
Turn music up......
Bottle with 5 oz corn sugar
A true german style hefeweizen
Dedicated to my wife who puts up with my crap..............
Tasting Notes (
1

)
Tasted on 4/2/2017 by Brewdog333
Notes:
My best hefeweizen yet...delicious with perfect balance of wheat and malts. The honey flavor comes through nicely. Also a great beer for the ladies...
{"RecipeId":38105,"RecipeTypeId":10,"OriginalRecipeId":null,"UnitType":"s","IbuFormula":"t","CreatedBy":111347,"Name":"Heidiweizen the original version","Description":"Honey infused german style hefeweizen....for my honey","ImageUrlRoot":null,"StyleId":"10A","StyleName":"Weissbier","BatchSize":5,"BoilSize":6.5,"BoilTime":60,"Efficiency":0.75,"DateCreated":"\/Date(1491138628473)\/","BrewSessionCount":0,"MostRecentBrewSession":null,"Og":1.0541875,"Fg":1.00758625,"Srm":5.2253880974784721,"Ibu":12.079646173369174,"BgGu":0.22292311277267193,"Abv":6.0115612500000006,"Calories":178,"AverageRating":5,"TastingNoteCount":3,"Fermentables":[{"Per":"52","Amt":"5","Ppg":"40","L":"2","Use":"Mash","Id":"263704","IngId":"10","Name":"White Wheat - US","CustomName":"","Rank":"1"},{"Per":"41","Amt":"4","Ppg":"34","L":"1","Use":"Mash","Id":"263705","IngId":"149","Name":"Pilsner - US","CustomName":"","Rank":"2"},{"Per":"5","Amt":"0.5","Ppg":"37","L":"25","Use":"Mash","Id":"263706","IngId":"542","Name":"Honey Malt - CA","CustomName":"","Rank":"3"},{"Per":"2","Amt":"0.1875","Ppg":"36","L":"23","Use":"Mash","Id":"263707","IngId":"31","Name":"Biscuit Malt - BE","CustomName":"","Rank":"4"}],"Hops":[{"Amt":"1","Type":"Pellet","Use":"Boil","Min":"60","Day":"0","AA":"3.3","Ibu":"12.0796461733692","Id":"205012","IngId":"71","Name":"Hersbrucker ","CustomName":"","Rank":"1"}],"Yeasts":[{"Atten":"0.86","Id":"54647","IngId":"568","Name":"Fermentis Safbrew WB-06","CustomName":"","Rank":"1"}],"Others":[{"Amt":"12","Unit":"oz","Use":"FlameOut","Id":"55803","IngId":"7326","Name":"Orange blossom honey","CustomName":"","Rank":"1"}],"MashSteps":[{"Heat":"Infusion","Temp":"150","Time":"60","Id":"27141","IngId":"9","Name":"Saccharification Rest","CustomName":"","Rank":"1"},{"Heat":"Infusion","Temp":"170","Time":"5","Id":"27142","IngId":"2681","Name":"Batch sparge","CustomName":"","Rank":"2"}],"Steps":[{"Id":"61219","Rank":"1","Text":"12oz Orange blossom honey at flameout...stir into wort"},{"Id":"61220","Rank":"2","Text":"Start wort chiller immediately after honey infuse"},{"Id":"61221","Rank":"3","Text":"Crack open a beer and pour a nice glass for yourself"},{"Id":"70722","Rank":"4","Text":"Turn music up......"},{"Id":"74328","Rank":"5","Text":"Bottle with 5 oz corn sugar"},{"Id":"77726","Rank":"6","Text":"A true german style hefeweizen"},{"Id":"77727","Rank":"7","Text":"Dedicated to my wife who puts up with my crap.............."}]}