Witbier Recipe - Full Moon-333
Witbier
Recipe Info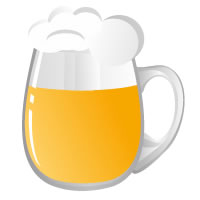 https://brewgr.com/Media/img/mug/4_d.jpg
https://brewgr.com/Media/img/mug/4_t.jpg
"Cause when I bark at the moon, I prefer home-brew
Fermentables
%
lb
fermentable
ppg

L

usage

50%

5

Pale 2-Row - US

37
1°
Mash

40%

4

White Wheat - US

40
2°
Mash

7%

0.75

Flaked Oats - US

37
1°
Mash

3%

0.333

Caramel/Crystal 30 - US

35
30°
Mash
10.083 lb
Hops
oz
variety
type
usage
time
AA

IBU

1

Hallertau

Pellet
Boil
60 minutes
4.0
14.2
1 oz
IBUs calculated using the Tinseth formula
Yeast
name
attenuation

Fermentis Safale US-05

81%
Other Stuff
amount
unit
name
usage
3
tsp

Tangerine zest

Flame Out
3
tsp

Ginger

Flame Out
3
floz

Orange blossom honey

Flame Out
Mash Steps
type
heat
temp °F
time
Saccharification Rest
Infusion
150
60 minutes
Batch sparge
Infusion
170
5 minutes
Special Instructions
3 tsp tangerine zest 3 min.
3 tsp ginger at 3 min.
3 oz orange blossom honey at flameout
Prime with 5 oz corn sugar
Use US-05 in the warm months, S-33 in winter months
Pour 3 beers for maximum enjoyment
Recipe started Friday the 13th 3/13/15
Recipe finalized Friday the 13th 7/13/18
Only took 3.33 years..........
{"RecipeId":34930,"RecipeTypeId":10,"OriginalRecipeId":null,"UnitType":"s","IbuFormula":"t","CreatedBy":111347,"Name":"Full Moon-333","Description":"\"Cause when I bark at the moon, I prefer home-brew","ImageUrlRoot":null,"StyleId":"24A","StyleName":"Witbier","BatchSize":5,"BoilSize":6.5,"BoilTime":60,"Efficiency":0.75,"DateCreated":"\/Date(1485614863983)\/","BrewSessionCount":0,"MostRecentBrewSession":null,"Og":1.05766075,"Fg":1.0109555425,"Srm":4.36494382115947,"Ibu":14.192008338037475,"BgGu":0.24612944399851705,"Abv":6.0249717675,"Calories":192,"AverageRating":5,"TastingNoteCount":2,"Fermentables":[{"Per":"50","Amt":"5","Ppg":"37","L":"1","Use":"Mash","Id":"286545","IngId":"565","Name":"Pale 2-Row - US","CustomName":"","Rank":"1"},{"Per":"40","Amt":"4","Ppg":"40","L":"2","Use":"Mash","Id":"301359","IngId":"10","Name":"White Wheat - US","CustomName":"","Rank":"2"},{"Per":"7","Amt":"0.75","Ppg":"37","L":"1","Use":"Mash","Id":"301360","IngId":"152","Name":"Flaked Oats - US","CustomName":"","Rank":"3"},{"Per":"3","Amt":"0.333","Ppg":"35","L":"30","Use":"Mash","Id":"301361","IngId":"36","Name":"Caramel/Crystal 30 - US","CustomName":"","Rank":"4"}],"Hops":[{"Amt":"1","Type":"Pellet","Use":"Boil","Min":"60","Day":"0","AA":"4","Ibu":"14.1920083380375","Id":"309500","IngId":"15","Name":"Hallertau ","CustomName":"","Rank":"1"}],"Yeasts":[{"Atten":"0.81","Id":"82223","IngId":"253","Name":"Fermentis Safale US-05","CustomName":"","Rank":"1"}],"Others":[{"Amt":"3","Unit":"tsp","Use":"FlameOut","Id":"55889","IngId":"8813","Name":"Tangerine zest","CustomName":"","Rank":"1"},{"Amt":"3","Unit":"tsp","Use":"FlameOut","Id":"55890","IngId":"11","Name":"Ginger","CustomName":"","Rank":"2"},{"Amt":"3","Unit":"floz","Use":"FlameOut","Id":"55891","IngId":"7326","Name":"Orange blossom honey","CustomName":"","Rank":"3"}],"MashSteps":[{"Heat":"Infusion","Temp":"150","Time":"60","Id":"24521","IngId":"9","Name":"Saccharification Rest","CustomName":"","Rank":"1"},{"Heat":"Infusion","Temp":"170","Time":"5","Id":"24522","IngId":"2681","Name":"Batch sparge","CustomName":"","Rank":"2"}],"Steps":[{"Id":"55187","Rank":"1","Text":"3 tsp tangerine zest 3 min."},{"Id":"55188","Rank":"2","Text":"3 tsp ginger at 3 min."},{"Id":"55189","Rank":"3","Text":"3 oz orange blossom honey at flameout"},{"Id":"92358","Rank":"4","Text":"Prime with 5 oz corn sugar"},{"Id":"93766","Rank":"5","Text":"Use US-05 in the warm months, S-33 in winter months"},{"Id":"97251","Rank":"6","Text":"Pour 3 beers for maximum enjoyment"},{"Id":"97252","Rank":"7","Text":"Recipe started Friday the 13th 3/13/15"},{"Id":"97253","Rank":"8","Text":"Recipe finalized Friday the 13th 7/13/18"},{"Id":"97254","Rank":"9","Text":"Only took 3.33 years.........."}]}