American IPA Recipe - Juicy Goosey
American IPA
Recipe Info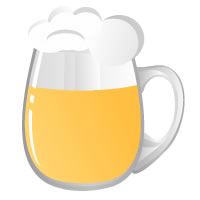 https://brewgr.com/Media/img/mug/3_d.jpg
https://brewgr.com/Media/img/mug/3_t.jpg
Juicy Goosey
by DasKorn on

1/18/2017
Sparged at 172F so that there is always 1inch of wort above the grain bed. Lautering should happen at 1qt/min. Brewed on 1/29/17 Lautering went OK, definitely need to work on this. Did a nice, slow sparge, not sure of the flowrate. Got a decent amount of grains to come through though, very hard to keep an inch of wort above grain at all times. Sent the collected wort in kettle through a screen to remove excess grains. Got a slightly stuck sparge as well, might consider adding some rice hulls next time. Brewing Notes Target Strike Temp: 161.7F Actual Strike Temp: 165.5F Target Mash Temp: 152F Measured Mash Temp: 152F Mash Temp after 30 mins: 151.7F Mash Temp after 60 mins: 148F Preboil OG at 190F : 1.032 OG : 1.076 (Very rough estimate, lots of foam so made it hard to read range was 1.074-1.078, different from target OG due to lactose addition which supposedly adds 42ppg FG : 1.022 Numbers above correspond approximately with 80% efficiency as seen by calculations on right.
Fermentables
%
lb
fermentable
ppg

L

usage

80%

2

2-Row - US

37
1°
Mash

14%

0.34

Pilsner - US

34
1°
Mash

6%

0.16

Flaked Oats - US

37
1°
Mash
2.5 lb
Hops
oz
variety
type
usage
time
AA

IBU

0.3

Cascade

Leaf
Dry Hop
14 days
5.8
0.0
0.2

Mosaic

Pellet
Boil
60 minutes
12.7
39.2
0.15

Mosaic

Pellet
Boil
30 minutes
12.7
22.6
0.2

Mosaic

Pellet
Flame Out
0 minutes
12.7
0.0
0.85 oz
IBUs calculated using the Tinseth formula
Hop Summary
oz
variety
type
AA
0.3

Cascade

Leaf
5.8
0.55

Mosaic

Pellet
12.7
0.85 oz
Yeast
name
attenuation

Fermentis Safale S-04

75%
Other Stuff
amount
unit
name
usage
3
oz

lactose

Boil
Mash Steps
type
heat
temp °F
time
Saccharification Rest
Infusion
152
60 minutes
Special Instructions
Add lactose with 15 minutes left in boil
Tasting Notes (
1

)
Tasted on 2/5/2017 by DasKorn
Notes:
Dear lord, this beer, prior to carbonation and racking to secondary (dry hop addition) is delicious. Something I have never tasted before. It is sweet, very mildly malty, light in color and relatively average in body (although I added oats and lactose to increase mouthfeel). Crisp, light and floral to the nose. Definitely does not smell like an average, bitter IPA or double. The Mosaics are just packed with flavor and highlight, but do not over power the light, sweet malty flavor. This is a perfect base beer for future additions of vanilla beans, fruit, etc.
{"RecipeId":34511,"RecipeTypeId":10,"OriginalRecipeId":null,"UnitType":"s","IbuFormula":"t","CreatedBy":110986,"Name":"Juicy Goosey","Description":"Sparged at 172F so that there is always 1inch of wort above the grain bed. Lautering should happen at 1qt/min.\n\nBrewed on 1/29/17\nLautering went OK, definitely need to work on this. Did a nice, slow sparge, not sure of the flowrate. Got a decent amount of grains to come through though, very hard to keep an inch of wort above grain at all times. Sent the collected wort in kettle through a screen to remove excess grains. Got a slightly stuck sparge as well, might consider adding some rice hulls next time.\n\nBrewing Notes\nTarget Strike Temp: 161.7F\nActual Strike Temp: 165.5F\nTarget Mash Temp: 152F\nMeasured Mash Temp: 152F\nMash Temp after 30 mins: 151.7F\nMash Temp after 60 mins: 148F\n\nPreboil OG at 190F : 1.032\nOG : 1.076 (Very rough estimate, lots of foam so made it hard to read range was 1.074-1.078, different from target OG due to lactose addition which supposedly adds 42ppg\nFG : 1.022\n\nNumbers above correspond approximately with 80% efficiency as seen by calculations on right.","ImageUrlRoot":null,"StyleId":"21A","StyleName":"American IPA","BatchSize":1,"BoilSize":1.6,"BoilTime":60,"Efficiency":0.8,"DateCreated":"\/Date(1484802703410)\/","BrewSessionCount":0,"MostRecentBrewSession":null,"Og":1.073184,"Fg":1.018296,"Srm":2.8039151964844624,"Ibu":61.782233602876431,"BgGu":0.84420411022732433,"Abv":7.0805520000000008,"Calories":250,"AverageRating":4,"TastingNoteCount":1,"Fermentables":[{"Per":"80","Amt":"2","Ppg":"37","L":"1","Use":"Mash","Id":"174042","IngId":"3","Name":"2-Row - US","CustomName":"","Rank":"1"},{"Per":"14","Amt":"0.34","Ppg":"34","L":"1","Use":"Mash","Id":"174044","IngId":"149","Name":"Pilsner - US","CustomName":"","Rank":"2"},{"Per":"6","Amt":"0.16","Ppg":"37","L":"1","Use":"Mash","Id":"174043","IngId":"152","Name":"Flaked Oats - US","CustomName":"","Rank":"3"}],"Hops":[{"Amt":"0.3","Type":"Leaf","Use":"DryHop","Min":"0","Day":"14","AA":"5.8","Ibu":"0","Id":"182047","IngId":"3","Name":"Cascade ","CustomName":"","Rank":"1"},{"Amt":"0.2","Type":"Pellet","Use":"Boil","Min":"60","Day":"0","AA":"12.7","Ibu":"39.1921370956517","Id":"182048","IngId":"167","Name":"Mosaic","CustomName":"","Rank":"2"},{"Amt":"0.15","Type":"Pellet","Use":"Boil","Min":"30","Day":"0","AA":"12.7","Ibu":"22.5900965072247","Id":"182049","IngId":"167","Name":"Mosaic","CustomName":"","Rank":"3"},{"Amt":"0.2","Type":"Pellet","Use":"FlameOut","Min":"0","Day":"0","AA":"12.7","Ibu":"0","Id":"182050","IngId":"167","Name":"Mosaic","CustomName":"","Rank":"4"}],"Yeasts":[{"Atten":"0.75","Id":"49199","IngId":"131","Name":"Fermentis Safale S-04","CustomName":"","Rank":"1"}],"Others":[{"Amt":"3","Unit":"oz","Use":"Boil","Id":"33444","IngId":"5306","Name":"lactose","CustomName":"","Rank":"1"}],"MashSteps":[{"Heat":"Infusion","Temp":"152","Time":"60","Id":"24090","IngId":"9","Name":"Saccharification Rest","CustomName":"","Rank":"1"}],"Steps":[{"Id":"54634","Rank":"1","Text":"Add lactose with 15 minutes left in boil"}]}