Scottish Heavy Recipe - Scottish 70 Shillings
Scottish Heavy
Recipe Info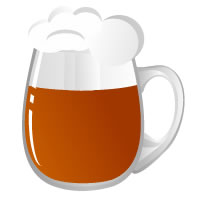 https://brewgr.com/Media/img/mug/16_d.jpg
https://brewgr.com/Media/img/mug/16_t.jpg
Scottish 70 Shillings
by Rick-B on

10/11/2016
An all grain recipe using specialty grains and a longer aggressive boil to caramelize the wort. I was going for a 60 Shilling brew but the results were closer to a 70 Shilling. I have already brewed this recipe and initial results are great aroma and nice taste. I will update later once completed and carbonated.
Fermentables
%
lb
fermentable
ppg

L

usage

56%

4

Maris Otter Pale - UK

38
3°
Mash

7%

0.5

Munich - Light 10L - US

35
10°
Mash

7%

0.5

Honey - US

35
1°
Late

14%

1

Caramel/Crystal 40 - US

35
40°
Mash

7%

0.5

Caramel/Crystal 120 - US

35
120°
Mash

7%

0.5

Carapils - Dextrine Malt - US

33
1°
Mash

2%

0.125

Chocolate Malt - US

34
350°
Mash
7.125 lb
Hops
oz
variety
type
usage
time
AA

IBU

0.5

East Kent Goldings

Pellet
Boil
60 minutes
5.5
11.4
0.5 oz
IBUs calculated using the Tinseth formula
Hop Summary
oz
variety
type
AA
0.5

East Kent Goldings

Pellet
5.5
0.5 oz
Yeast
name
attenuation

Mangrove Jacks M76 Bavarian Lager

75%
Other Stuff
amount
unit
name
usage
1
each

Whirlfloc

Boil
Mash Steps
type
heat
temp °F
time
Single infusion
Infusion
158
60 minutes
Special Instructions
This is based on my tun and boil evaporations, adjust to your own environment.
Heat 2 to 2.5 gallon of water to 177 degree. I like to start with a lower volume of water in case I need to add more to raise the mashing temperature. Mash for 60 minutes
While mashing heat 6 gallon of water to 180 degree.
Sparge grains and drain until you have 8 gallon of wort. Boil aggressively for 90 minutes. The goal is to reach 5 gallons.
Add hops at the last 60 minutes of the boil.
Add Irish Moss or Whirlfloc tab at the last 15 minutes.
Ferment at 60F temperature with an ale yeast or you can use a lager yeast. I decide to ferment with a lager yeast at 50F since I have a temperature controlled fermenting chamber. I always use dry yeast these days and have good results.
Allow 3 or 4 weeks to ferment when using a lager yeast at low temps. Clarify once completed.
Tasting Notes (
1

)
Tasted on 12/15/2016 by Rick-B
Notes:
Well not my favorite beer, it looks and tastes okay much like it should but it is light, seems thin such as bud or miller. I prefer the heavier craft beers, but for my bud light drinkers this will probably satisfy them just right.
{"RecipeId":30435,"RecipeTypeId":10,"OriginalRecipeId":null,"UnitType":"s","IbuFormula":"t","CreatedBy":109966,"Name":"Scottish 70 Shillings","Description":"An all grain recipe using specialty grains and a longer aggressive boil to caramelize the wort. I was going for a 60 Shilling brew but the results were closer to a 70 Shilling. I have already brewed this recipe and initial results are great aroma and nice taste. I will update later once completed and carbonated.","ImageUrlRoot":null,"StyleId":"14B","StyleName":"Scottish Heavy","BatchSize":5,"BoilSize":8,"BoilTime":90,"Efficiency":0.75,"DateCreated":"\/Date(1476192153080)\/","BrewSessionCount":0,"MostRecentBrewSession":null,"Og":1.0399125,"Fg":1.009978125,"Srm":16.405879790892282,"Ibu":11.4443090428333,"BgGu":0.2867349587931925,"Abv":3.8615343750000006,"Calories":131,"AverageRating":3,"TastingNoteCount":1,"Fermentables":[{"Per":"56","Amt":"4","Ppg":"38","L":"3","Use":"Mash","Id":"150314","IngId":"15","Name":"Maris Otter Pale - UK","CustomName":"","Rank":"1"},{"Per":"7","Amt":"0.5","Ppg":"35","L":"10","Use":"Mash","Id":"150315","IngId":"24","Name":"Munich - Light 10L - US","CustomName":"","Rank":"2"},{"Per":"7","Amt":"0.5","Ppg":"35","L":"1","Use":"Late","Id":"150316","IngId":"90","Name":"Honey - US","CustomName":"","Rank":"3"},{"Per":"14","Amt":"1","Ppg":"35","L":"40","Use":"Mash","Id":"150317","IngId":"38","Name":"Caramel/Crystal 40 - US","CustomName":"","Rank":"4"},{"Per":"7","Amt":"0.5","Ppg":"35","L":"120","Use":"Mash","Id":"150318","IngId":"46","Name":"Caramel/Crystal 120 - US","CustomName":"","Rank":"5"},{"Per":"7","Amt":"0.5","Ppg":"33","L":"1","Use":"Mash","Id":"150319","IngId":"505","Name":"Carapils - Dextrine Malt - US","CustomName":"","Rank":"6"},{"Per":"2","Amt":"0.125","Ppg":"34","L":"350","Use":"Mash","Id":"150320","IngId":"53","Name":"Chocolate Malt - US","CustomName":"","Rank":"7"}],"Hops":[{"Amt":"0.5","Type":"Pellet","Use":"Boil","Min":"60","Day":"0","AA":"5.5","Ibu":"11.4443090428333","Id":"156261","IngId":"39","Name":"East Kent Goldings","CustomName":"","Rank":"1"}],"Yeasts":[{"Atten":"0.75","Id":"42919","IngId":"1738","Name":"Mangrove Jacks M76 Bavarian Lager","CustomName":"","Rank":"1"}],"Others":[{"Amt":"1","Unit":"each","Use":"Boil","Id":"28559","IngId":"4594","Name":"Whirlfloc","CustomName":"","Rank":"1"}],"MashSteps":[{"Heat":"Infusion","Temp":"158","Time":"60","Id":"20211","IngId":"2397","Name":"Single infusion","CustomName":"","Rank":"1"}],"Steps":[{"Id":"47133","Rank":"1","Text":"This is based on my tun and boil evaporations, adjust to your own environment."},{"Id":"47134","Rank":"2","Text":"Heat 2 to 2.5 gallon of water to 177 degree. I like to start with a lower volume of water in case I need to add more to raise the mashing temperature. Mash for 60 minutes"},{"Id":"47135","Rank":"3","Text":"While mashing heat 6 gallon of water to 180 degree."},{"Id":"47136","Rank":"4","Text":"Sparge grains and drain until you have 8 gallon of wort. Boil aggressively for 90 minutes. The goal is to reach 5 gallons."},{"Id":"47137","Rank":"5","Text":"Add hops at the last 60 minutes of the boil."},{"Id":"47138","Rank":"6","Text":"Add Irish Moss or Whirlfloc tab at the last 15 minutes."},{"Id":"47139","Rank":"7","Text":"Ferment at 60F temperature with an ale yeast or you can use a lager yeast. I decide to ferment with a lager yeast at 50F since I have a temperature controlled fermenting chamber. I always use dry yeast these days and have good results."},{"Id":"47140","Rank":"8","Text":"Allow 3 or 4 weeks to ferment when using a lager yeast at low temps. Clarify once completed."}]}