Cream Ale Recipe - NoVa Cream Ale - Based On Original and Scaled Up - Brewed 5-28-23
Cream Ale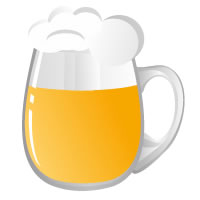 https://brewgr.com/Media/img/mug/4_d.jpg
https://brewgr.com/Media/img/mug/4_t.jpg
NoVa Cream Ale - Based On Original and Scaled Up - Brewed 5-28-23
by Bogenschutze on

5/25/2023
This doubled original Cream Ale recipe (as listed unadjusted here) was accomplished on an all electric, 15 Gal capacity Spike Brew system (Thank you Mark Gauntner), having adjusted it per Beersmith (again, thank you Mark Gauntner). - Recipe was increased to 10.5 gallons to account for false-bottom dead space (wort loss). - Hop schedule was adjusted (per Beersmith) to 2oz @ 25min and 2oz @1min in order to obtain proper (according to Beersmith) and desired IBU of 18.5. - Also, this website does not list WLP 080......not that it matters, I guess.....but for future single 5 gallon batches, it would be nice. - And finally, the original recipe included 1/2 lb corn sugar (dextrose) per 5 gal.......I adjusted grain bill to preclude it's addition and use.
No other stuff in this recipe
No mash steps in this recipe
6 Gallons strike at approx 130°
Mash settled in at 122° - 30 minutes.
Kicked up to 150° and held for 60 minutes. (40 minute gravity reading 1.062)
Mashout at 170°. (gravity reading 1.073)
Sparged till accquiring 12 Gal wort (till runoff hit 1.005)......gravity 1.050
Added 1.5 Gal from HLT for total pre-boil wort of 13.5 Gal.......pre-boil gravity 1.046
50 minutes into boil, at 12.2 gallons remaining, gravity 1.052
Added 2 oz hops at 25 minutes (remaining)
Added 1 tsp Yeast Nutrient Blend and one Whirlfloc tablet (blended into 1/4 boiling wort) at 10 minutes
Added 2 oz hops at 1 minute
Whirlpooled for 10 minutes.
(Target OG is 1.050-1.052)
Added 3-4 gallons water (from HLT) to attain 12 gallons total at 1.052 gravity
Filled two "Fermonster" carboys with 6 gallons each......still 75-77°
Placed in keezer set at 52° till sufficiently cooled down
Pitched Wyeast 1056 into one and WLP 080 into other
Next day (Memorial Day): 1056 is ROLLING (of course), requiring a blowoff tube/setup.....while 080 is calmly increasing activity, though solidly "leaning forward". All is well in beerland.
5/30/23 - 080 activity is just about on par with 1056 with yeast rolling throughout and color dropping off. Will set up a blowoff tube before heading to work. Makes my mouth water just looking at these things....
6/1/23 - 1056 airlock is down to one "burp" per 7-10 seconds, while the 080 is still producing same every 2-3 seconds.
Kicking house temp up from 68° to 71° while I'm at work, noon to 8pm.....see if activity kicks up.
6-6-23: Both airlocks show zero activity. Will secondary and cold-crash on 6-11-23.
6-11-23: Secondaried both carboys. 080 is at 1.008 (5.7%) and 1056 is at 1.010 (5.5%)
Will biofine it when I keg it.
Tasting Notes (
0

)
There aren't any tasting notes logged yet
NoVa Cream Ale - Based On Original and Scaled Up -...
Cream Ale
10.00

Gallons

Liters

Batch Size

14.00

Gallons

Liters

Boil Size

90

 min

Boil Time

1.052

OG

1.013

FG

17.5

 IBU (tinseth)

Bitterness

0.34

BG:GU

4.1

° SRM

Color

78%

Efficiency

5.0

% ABV

Alcohol

173

 per 12oz

Calories
Clone This Recipe
Similar Homebrew Recipes
{"RecipeId":108673,"RecipeTypeId":10,"OriginalRecipeId":null,"UnitType":"s","IbuFormula":"t","CreatedBy":115804,"Name":"NoVa Cream Ale - Based On Original and Scaled Up - Brewed 5-28-23","Description":"This doubled original Cream Ale recipe (as listed unadjusted here) was accomplished on an all electric, 15 Gal capacity Spike Brew system (Thank you Mark Gauntner), having adjusted it per Beersmith (again, thank you Mark Gauntner). \n- Recipe was increased to 10.5 gallons to account for false-bottom dead space (wort loss).\n- Hop schedule was adjusted (per Beersmith) to 2oz @ 25min and 2oz @1min in order to obtain proper (according to Beersmith) and desired IBU of 18.5.\n- Also, this website does not list WLP 080......not that it matters, I guess.....but for future single 5 gallon batches, it would be nice.\n- And finally, the original recipe included 1/2 lb corn sugar (dextrose) per 5 gal.......I adjusted grain bill to preclude it\u0027s addition and use. ","ImageUrlRoot":null,"StyleId":"1C","StyleName":"Cream Ale","BatchSize":10,"BoilSize":14,"BoilTime":90,"Efficiency":0.78,"DateCreated":"\/Date(1685025515990)\/","BrewSessionCount":0,"MostRecentBrewSession":null,"Og":1.0520065,"Fg":1.013001625,"Srm":4.0927638378972473,"Ibu":17.53516606842884,"BgGu":0.33717258551198054,"Abv":5.031628875,"Calories":173,"AverageRating":0,"TastingNoteCount":0,"Fermentables":[{"Per":"44","Amt":"8","Ppg":"37","L":"1","Use":"Mash","Id":"584002","IngId":"3","Name":"2-Row - US","CustomName":"","Rank":"2"},{"Per":"38","Amt":"7","Ppg":"36","L":"2","Use":"Mash","Id":"584003","IngId":"5","Name":"Pilsner - BE","CustomName":"","Rank":"4"},{"Per":"4","Amt":"0.75","Ppg":"37","L":"25","Use":"Mash","Id":"584004","IngId":"542","Name":"Honey Malt - CA","CustomName":"","Rank":"6"},{"Per":"3","Amt":"0.5","Ppg":"34","L":"1","Use":"Mash","Id":"584007","IngId":"109","Name":"Carafoam - DE","CustomName":"","Rank":"8"},{"Per":"11","Amt":"2","Ppg":"37","L":"1","Use":"Mash","Id":"584005","IngId":"89","Name":"Flaked Corn - US","CustomName":"","Rank":"10"}],"Hops":[{"Amt":"3","Type":"Pellet","Use":"Boil","Min":"30","Day":"0","AA":"4","Ibu":"17.2132168711854","Id":"601803","IngId":"286","Name":"Hallertauer Mittelfrüh","CustomName":"","Rank":"1"},{"Amt":"1","Type":"Pellet","Use":"Boil","Min":"1","Day":"0","AA":"4","Ibu":"0.32194919724347","Id":"601804","IngId":"286","Name":"Hallertauer Mittelfrüh","CustomName":"","Rank":"2"}],"Yeasts":[{"Atten":"0.75","Id":"161668","IngId":"193","Name":"Wyeast American Ale 1056","CustomName":"","Rank":"1"}],"Others":[],"MashSteps":[],"Steps":[{"Id":"182797","Rank":"1","Text":"6 Gallons strike at approx 130°"},{"Id":"182788","Rank":"2","Text":"Mash settled in at 122° - 30 minutes."},{"Id":"182789","Rank":"3","Text":"Kicked up to 150° and held for 60 minutes. (40 minute gravity reading 1.062)"},{"Id":"182790","Rank":"4","Text":"Mashout at 170°. (gravity reading 1.073)"},{"Id":"182795","Rank":"5","Text":"Sparged till accquiring 12 Gal wort (till runoff hit 1.005)......gravity 1.050"},{"Id":"182837","Rank":"6","Text":"Added 1.5 Gal from HLT for total pre-boil wort of 13.5 Gal.......pre-boil gravity 1.046"},{"Id":"182798","Rank":"7","Text":"Begin 90 minute boil"},{"Id":"182838","Rank":"8","Text":"50 minutes into boil, at 12.2 gallons remaining, gravity 1.052"},{"Id":"182799","Rank":"9","Text":"Added 2 oz hops at 25 minutes (remaining)"},{"Id":"182800","Rank":"10","Text":"Added 1 tsp Yeast Nutrient Blend and one Whirlfloc tablet (blended into 1/4 boiling wort) at 10 minutes"},{"Id":"182801","Rank":"11","Text":"Added 2 oz hops at 1 minute"},{"Id":"182802","Rank":"12","Text":"Whirlpooled for 10 minutes."},{"Id":"182794","Rank":"13","Text":"(Target OG is 1.050-1.052)"},{"Id":"182839","Rank":"14","Text":"Added 3-4 gallons water (from HLT) to attain 12 gallons total at 1.052 gravity"},{"Id":"182840","Rank":"15","Text":"Filled two \"Fermonster\" carboys with 6 gallons each......still 75-77°"},{"Id":"182841","Rank":"16","Text":"Placed in keezer set at 52° till sufficiently cooled down"},{"Id":"182842","Rank":"17","Text":"Pitched Wyeast 1056 into one and WLP 080 into other"},{"Id":"182843","Rank":"18","Text":"Next day (Memorial Day): 1056 is ROLLING (of course), requiring a blowoff tube/setup.....while 080 is calmly increasing activity, though solidly \"leaning forward\". All is well in beerland."},{"Id":"182844","Rank":"19","Text":"5/30/23 - 080 activity is just about on par with 1056 with yeast rolling throughout and color dropping off. Will set up a blowoff tube before heading to work. Makes my mouth water just looking at these things...."},{"Id":"182891","Rank":"20","Text":"6/1/23 - 1056 airlock is down to one \"burp\" per 7-10 seconds, while the 080 is still producing same every 2-3 seconds."},{"Id":"182892","Rank":"21","Text":"Kicking house temp up from 68° to 71° while I\u0027m at work, noon to 8pm.....see if activity kicks up."},{"Id":"182932","Rank":"22","Text":"6-6-23: Both airlocks show zero activity. Will secondary and cold-crash on 6-11-23."},{"Id":"183033","Rank":"23","Text":"6-11-23: Secondaried both carboys. 080 is at 1.008 (5.7%) and 1056 is at 1.010 (5.5%)"},{"Id":"183034","Rank":"24","Text":"Will biofine it when I keg it."}]}