American Light Lager Recipe - Butt Light Lager for Dan
American Light Lager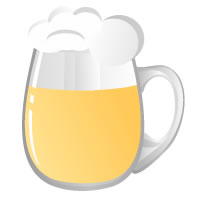 https://brewgr.com/Media/img/mug/2_d.jpg
https://brewgr.com/Media/img/mug/2_t.jpg
Butt Light Lager for Dan
by Bogenschutze on

5/14/2023
All Grain American Light Lager homebrew recipe. This homebrew recipe uses the following ingredients: 6-Row - US, Bohemian Pilsner - DE, Carapils - DE, Flaked Rice - US, Table Sugar - Sucrose - US, Hallertauer Mittelfrüh Hops, Fermentis Saflager W-34/70 Homebrew Yeast.
24%
-
Bohemian Pilsner - DE
12%
-
Table Sugar - Sucrose - US
Fermentis Saflager W-34/70
No other stuff in this recipe
No mash steps in this recipe
Brewed on Saturday, 5-20-23
With a target of approximately 152°, mashed in @ 145° with 1.3 qts (2.75 gal) X 8.5 lbs grist
Added enough 180° water to pull temp up to 152°.......mashed for 60 minutes.
Sparged for 8 gallons (I did see 1.005 before quitting [oops!], so if this beer suffers astringency, I'll know where it came from.)
Boiled for 90 minutes (for the pilsner)
At 60 minutes, added table sugar......I had tossed all my corn sugar.....brilliant!
10 minutes before flameout, added 2 oz hops.
5 minutes before flameout, added 1/2 tsp nutrient and one worfloc tablet
OG was dead nuts on at 1.040!
No coil prepped, so cooled the old fashioned way......in a sink full of ice....(must have taken 45 minutes or more - pain in the ass)
Cleaned, sterilized and cranked up the freezer outside.....set at 45°
Used cheesecloth as filter for draining boil kettle into carboy.....with constant starsan spraying on everything.
Pitched TWO packs of CellarScience German lager yeast (https://cellarscience.com/products/german-dry-beer-yeast).....shook the hell out of it.
Placed carboy in freezer and raised temp monitor to 55° (give the yeast a kick in the ass)
Next day, dropped temp to 50°
5-23-23: Appears to have stalled (already!), so, kicked temp up to 52.....let's see if that bumps it back on.
5-24-23: Success - slow steady burping resumed.
2-4 weeks at approximately 50-55° (3-10 June)
Once primary fermentation finishes, rack beer into a lagering carboy.
Drop freezer temp to 35° and lager for 4 weeks (around 3-10 July)
Add 1/4 to 1/2 packet of same yeast to beer, then bottle.
Bring to 68° for a week or two......test beer
Tasting Notes (
0

)
There aren't any tasting notes logged yet
Butt Light Lager for Dan
American Light Lager
6.00

Gallons

Liters

Batch Size

8.00

Gallons

Liters

Boil Size

60

 min

Boil Time

1.038

OG

1.006

FG

10.2

 IBU (tinseth)

Bitterness

0.27

BG:GU

2.1

° SRM

Color

70%

Efficiency

4.1

% ABV

Alcohol

123

 per 12oz

Calories
Clone This Recipe
Similar Homebrew Recipes
{"RecipeId":108556,"RecipeTypeId":10,"OriginalRecipeId":null,"UnitType":"s","IbuFormula":"t","CreatedBy":115804,"Name":"Butt Light Lager for Dan","Description":"","ImageUrlRoot":null,"StyleId":"1A","StyleName":"American Light Lager","BatchSize":6,"BoilSize":8,"BoilTime":60,"Efficiency":0.7,"DateCreated":"\/Date(1684093079657)\/","BrewSessionCount":0,"MostRecentBrewSession":null,"Og":1.0378833333333333,"Fg":1.0064401666666667,"Srm":2.119639019480855,"Ibu":10.244235856817159,"BgGu":0.27041537677476052,"Abv":4.0561684999999992,"Calories":123,"AverageRating":0,"TastingNoteCount":0,"Fermentables":[{"Per":"26","Amt":"2.25","Ppg":"35","L":"2","Use":"Mash","Id":"583404","IngId":"4","Name":"6-Row - US","CustomName":"","Rank":"2"},{"Per":"24","Amt":"2","Ppg":"38","L":"1","Use":"Mash","Id":"583405","IngId":"485","Name":"Bohemian Pilsner - DE","CustomName":"","Rank":"4"},{"Per":"3","Amt":"0.25","Ppg":"33","L":"2","Use":"Mash","Id":"583408","IngId":"11","Name":"Carapils - DE","CustomName":"","Rank":"6"},{"Per":"35","Amt":"3","Ppg":"32","L":"1","Use":"Mash","Id":"583406","IngId":"94","Name":"Flaked Rice - US","CustomName":"","Rank":"8"},{"Per":"12","Amt":"1","Ppg":"46","L":"0","Use":"Late","Id":"583708","IngId":"153","Name":"Table Sugar - Sucrose - US","CustomName":"","Rank":"10"}],"Hops":[{"Amt":"2","Type":"Pellet","Use":"Boil","Min":"10","Day":"0","AA":"4","Ibu":"10.2442358568172","Id":"601505","IngId":"286","Name":"Hallertauer Mittelfrüh","CustomName":"","Rank":"2"}],"Yeasts":[{"Atten":"0.83","Id":"161587","IngId":"571","Name":"Fermentis Saflager W-34/70","CustomName":"","Rank":"1"}],"Others":[],"MashSteps":[],"Steps":[{"Id":"182716","Rank":"1","Text":"Brewed on Saturday, 5-20-23"},{"Id":"182655","Rank":"2","Text":"With a target of approximately 152°, mashed in @ 145° with 1.3 qts (2.75 gal) X 8.5 lbs grist"},{"Id":"182656","Rank":"3","Text":"Added enough 180° water to pull temp up to 152°.......mashed for 60 minutes."},{"Id":"182657","Rank":"4","Text":"Sparged for 8 gallons (I did see 1.005 before quitting [oops!], so if this beer suffers astringency, I\u0027ll know where it came from.)"},{"Id":"182658","Rank":"5","Text":"Boiled for 90 minutes (for the pilsner)"},{"Id":"182659","Rank":"6","Text":"At 60 minutes, added table sugar......I had tossed all my corn sugar.....brilliant!"},{"Id":"182660","Rank":"7","Text":"10 minutes before flameout, added 2 oz hops."},{"Id":"182661","Rank":"8","Text":"5 minutes before flameout, added 1/2 tsp nutrient and one worfloc tablet"},{"Id":"182662","Rank":"9","Text":"OG was dead nuts on at 1.040!"},{"Id":"182663","Rank":"10","Text":"No coil prepped, so cooled the old fashioned way......in a sink full of ice....(must have taken 45 minutes or more - pain in the ass)"},{"Id":"182664","Rank":"11","Text":"Cleaned, sterilized and cranked up the freezer outside.....set at 45°"},{"Id":"182665","Rank":"12","Text":"Used cheesecloth as filter for draining boil kettle into carboy.....with constant starsan spraying on everything."},{"Id":"182666","Rank":"13","Text":"Pitched TWO packs of CellarScience German lager yeast (https://cellarscience.com/products/german-dry-beer-yeast).....shook the hell out of it."},{"Id":"182667","Rank":"14","Text":"Placed carboy in freezer and raised temp monitor to 55° (give the yeast a kick in the ass)"},{"Id":"182668","Rank":"15","Text":"Next day, dropped temp to 50°"},{"Id":"182717","Rank":"16","Text":"5-23-23: Appears to have stalled (already!), so, kicked temp up to 52.....let\u0027s see if that bumps it back on."},{"Id":"182719","Rank":"17","Text":"5-24-23: Success - slow steady burping resumed."},{"Id":"182669","Rank":"18","Text":"2-4 weeks at approximately 50-55° (3-10 June)"},{"Id":"182670","Rank":"19","Text":"Once primary fermentation finishes, rack beer into a lagering carboy."},{"Id":"182671","Rank":"20","Text":"Drop freezer temp to 35° and lager for 4 weeks (around 3-10 July)"},{"Id":"182672","Rank":"21","Text":"Add 1/4 to 1/2 packet of same yeast to beer, then bottle."},{"Id":"182673","Rank":"22","Text":"Bring to 68° for a week or two......test beer"}]}