American Wheat Beer Recipe - Clone Of Easy American Wheat Ale - BIAB All-Grain Mash 1.5 Gallon Finish
American Wheat Beer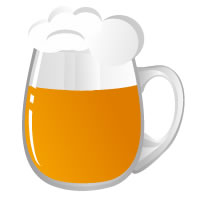 https://brewgr.com/Media/img/mug/8_d.jpg
https://brewgr.com/Media/img/mug/8_t.jpg
Clone Of Easy American Wheat Ale - BIAB All-Grain Mash 1.5 Gallon Finish
by Brewer 128404 on

4/30/2022

All Grain American Wheat Beer homebrew recipe. This homebrew recipe uses the following ingredients: Pale 2-Row - US, White Wheat - US, Caramel/Crystal 20 - US, Saaz Hops, Fermentis Safale US-05 Homebrew Yeast.


This recipe was cloned from Easy American Wheat Ale - BIAB All-Grain Mash 1.5 Gallon Finish.
40%
-
Caramel/Crystal 20 - US
No other stuff in this recipe
No mash steps in this recipe
As always, Sanitize all equipment prior to use.
MASH GRAINS... 3.0 gals spring water in kettle.
MASH all grains in kettle for 60 minutes @ 153F. Stir briefly/gently every 5 minutes.
Create Hops Bag #1 - .50 oz of Saaz hops in muslin bag. Set aside.
Create Hops Bag #2 - .50 oz of Saaz hops in muslin bag. Set aside.
Mash 10 additional mins at 170F. Remove grain bag, drip excess out, don't squeeze.
BEGINNING WORT BOIL... 2.6 gals wort should remain in kettle after grain removal.
Bring wort kettle to a gentle roiling boil, stirring often to avoiding burning wort.
Begin boil countdown timer of sixty (60) minutes.
At 55 mins countdown, add Bag #1 - .50 oz Saaz pellet hops.
At 20 mins countdown, fill sink with icy cold water for wort cooldown.
At 10 mins countdown, add Bag #2 - .50 oz Saaz pellet hops.
Option: at 10 mins countdown, add 1/4 crushed tablet of Whirlfloc to boil.
At 0 (zero) mins left, remove wort kettle and place into sink filled with icy cold water.
Cool wort rapidly, stir often. Replace sink water with cold water as it grows too warm.
Bring wort temperature quickly down to about 75F.
Take a hydrometer reading and record the results for later reference.
Transfer wort to primary fermentor, pitch in 1/2 pack Safale US-05 yeast or starter.
Stir vigorously for 5 mins to mix yeast and aerate with oxygen.
Seal tight with lid and affix bubble airlock filled to max lines with sanitized water.
Keep at in dark undisturbed area at a stable 65F to 68F.
Option: Transfer to secondary fermentor at about 3 to 5 days as ferment slows.
Siphon beer carefully away from trub sediment in primary over to secondary.
Full fermentation should conclude in about 7 to 12 days when all bubbling stops.
Option: Cold crash for up to 5 days before moving to bottling phase.
Option: add about 1-2 oz of brewers raspberry extract at bottling for flavoring.
Carbonation should be about about 2.9 to 3.0 volumes for 1.5 gallons finished beer.
Dissolve 1/4 cup priming sugar into 1/2 cup boiled spring water, mix into beer.
OR, add 1/2 round tsp corn sugar into each 12 oz bottle. Shake when filled/capped.
Store bottled beer in dark area at about 70F for 4 to 6 weeks.
Best served cold 36F to 42F. Expiration date should not exceed 2 years.
Tasting Notes (
0

)
There aren't any tasting notes logged yet
Clone Of Easy American Wheat Ale - BIAB All-Grain ...
American Wheat Beer
4.00

Gallons

Liters

Batch Size

4.60

Gallons

Liters

Boil Size

60

min

Boil Time

1.032

OG

1.006

FG

10.0

IBU (tinseth)

Bitterness

0.31

BG:GU

7.8

° SRM

Color

70%

Efficiency

3.4

% ABV

Alcohol

104

per 12oz

Calories
Clone This Recipe
Similar Homebrew Recipes
Help support Brewgr and buy your ingredients from MoreBeer
Or consider a donation via PayPal
{"RecipeId":102998,"RecipeTypeId":10,"OriginalRecipeId":72200,"UnitType":"s","IbuFormula":"t","CreatedBy":128404,"Name":"Clone Of Easy American Wheat Ale - BIAB All-Grain Mash 1.5 Gallon Finish","Description":"","ImageUrlRoot":null,"StyleId":"1D","StyleName":"American Wheat Beer","BatchSize":4,"BoilSize":4.6,"BoilTime":60,"Efficiency":0.7,"DateCreated":"\/Date(1651360649393)\/","BrewSessionCount":0,"MostRecentBrewSession":null,"Og":1.0322,"Fg":1.006118,"Srm":7.7937634656011081,"Ibu":10.030168242041961,"BgGu":0.31149590813794908,"Abv":3.3645780000000007,"Calories":104,"AverageRating":0,"TastingNoteCount":0,"Fermentables":[{"Per":"40","Amt":"2","Ppg":"37","L":"1","Use":"Mash","Id":"552084","IngId":"565","Name":"Pale 2-Row - US","CustomName":"","Rank":"1"},{"Per":"20","Amt":"1","Ppg":"40","L":"2","Use":"Mash","Id":"552085","IngId":"10","Name":"White Wheat - US","CustomName":"","Rank":"2"},{"Per":"40","Amt":"2","Ppg":"35","L":"20","Use":"Mash","Id":"552086","IngId":"25","Name":"Caramel/Crystal 20 - US","CustomName":"","Rank":"3"}],"Hops":[{"Amt":"0.5","Type":"Pellet","Use":"Boil","Min":"60","Day":"0","AA":"3","Ibu":"8.36297381079258","Id":"573538","IngId":"27","Name":"Saaz ","CustomName":"","Rank":"1"},{"Amt":"0.5","Type":"Pellet","Use":"Boil","Min":"5","Day":"0","AA":"3","Ibu":"1.66719443124938","Id":"573539","IngId":"27","Name":"Saaz ","CustomName":"","Rank":"2"}],"Yeasts":[{"Atten":"0.81","Id":"153150","IngId":"253","Name":"Fermentis Safale US-05","CustomName":"","Rank":"1"}],"Others":[],"MashSteps":[],"Steps":[{"Id":"172554","Rank":"1","Text":"As always, Sanitize all equipment prior to use."},{"Id":"172555","Rank":"2","Text":"MASH GRAINS... 3.0 gals spring water in kettle."},{"Id":"172556","Rank":"3","Text":"MASH all grains in kettle for 60 minutes @ 153F. Stir briefly/gently every 5 minutes."},{"Id":"172557","Rank":"4","Text":"Create Hops Bag #1 - .50 oz of Saaz hops in muslin bag. Set aside."},{"Id":"172558","Rank":"5","Text":"Create Hops Bag #2 - .50 oz of Saaz hops in muslin bag. Set aside."},{"Id":"172559","Rank":"6","Text":"Mash 10 additional mins at 170F. Remove grain bag, drip excess out, don\u0027t squeeze."},{"Id":"172560","Rank":"7","Text":"BEGINNING WORT BOIL... 2.6 gals wort should remain in kettle after grain removal."},{"Id":"172561","Rank":"8","Text":"Bring wort kettle to a gentle roiling boil, stirring often to avoiding burning wort."},{"Id":"172562","Rank":"9","Text":"Begin boil countdown timer of sixty (60) minutes."},{"Id":"172563","Rank":"10","Text":"At 55 mins countdown, add Bag #1 - .50 oz Saaz pellet hops."},{"Id":"172564","Rank":"11","Text":"At 20 mins countdown, fill sink with icy cold water for wort cooldown."},{"Id":"172565","Rank":"12","Text":"At 10 mins countdown, add Bag #2 - .50 oz Saaz pellet hops."},{"Id":"172566","Rank":"13","Text":"Option: at 10 mins countdown, add 1/4 crushed tablet of Whirlfloc to boil."},{"Id":"172567","Rank":"14","Text":"At 0 (zero) mins left, remove wort kettle and place into sink filled with icy cold water."},{"Id":"172568","Rank":"15","Text":"COOL DOWN..."},{"Id":"172569","Rank":"16","Text":"Cool wort rapidly, stir often. Replace sink water with cold water as it grows too warm."},{"Id":"172570","Rank":"17","Text":"Bring wort temperature quickly down to about 75F."},{"Id":"172571","Rank":"18","Text":"Take a hydrometer reading and record the results for later reference."},{"Id":"172572","Rank":"19","Text":"PRIMARY FERMENTOR..."},{"Id":"172573","Rank":"20","Text":"Transfer wort to primary fermentor, pitch in 1/2 pack Safale US-05 yeast or starter."},{"Id":"172574","Rank":"21","Text":"Stir vigorously for 5 mins to mix yeast and aerate with oxygen."},{"Id":"172575","Rank":"22","Text":"Seal tight with lid and affix bubble airlock filled to max lines with sanitized water."},{"Id":"172576","Rank":"23","Text":"Keep at in dark undisturbed area at a stable 65F to 68F."},{"Id":"172577","Rank":"24","Text":"Option: Transfer to secondary fermentor at about 3 to 5 days as ferment slows."},{"Id":"172578","Rank":"25","Text":"Siphon beer carefully away from trub sediment in primary over to secondary."},{"Id":"172579","Rank":"26","Text":"Full fermentation should conclude in about 7 to 12 days when all bubbling stops."},{"Id":"172580","Rank":"27","Text":"FINISHED BEER..."},{"Id":"172581","Rank":"28","Text":"Option: Cold crash for up to 5 days before moving to bottling phase."},{"Id":"172582","Rank":"29","Text":"Option: add about 1-2 oz of brewers raspberry extract at bottling for flavoring."},{"Id":"172583","Rank":"30","Text":"Carbonation should be about about 2.9 to 3.0 volumes for 1.5 gallons finished beer."},{"Id":"172584","Rank":"31","Text":"Dissolve 1/4 cup priming sugar into 1/2 cup boiled spring water, mix into beer."},{"Id":"172585","Rank":"32","Text":"OR, add 1/2 round tsp corn sugar into each 12 oz bottle. Shake when filled/capped."},{"Id":"172586","Rank":"33","Text":"Store bottled beer in dark area at about 70F for 4 to 6 weeks."},{"Id":"172587","Rank":"34","Text":"Best served cold 36F to 42F. Expiration date should not exceed 2 years."}]}